GAZPACHO BEST RECIPE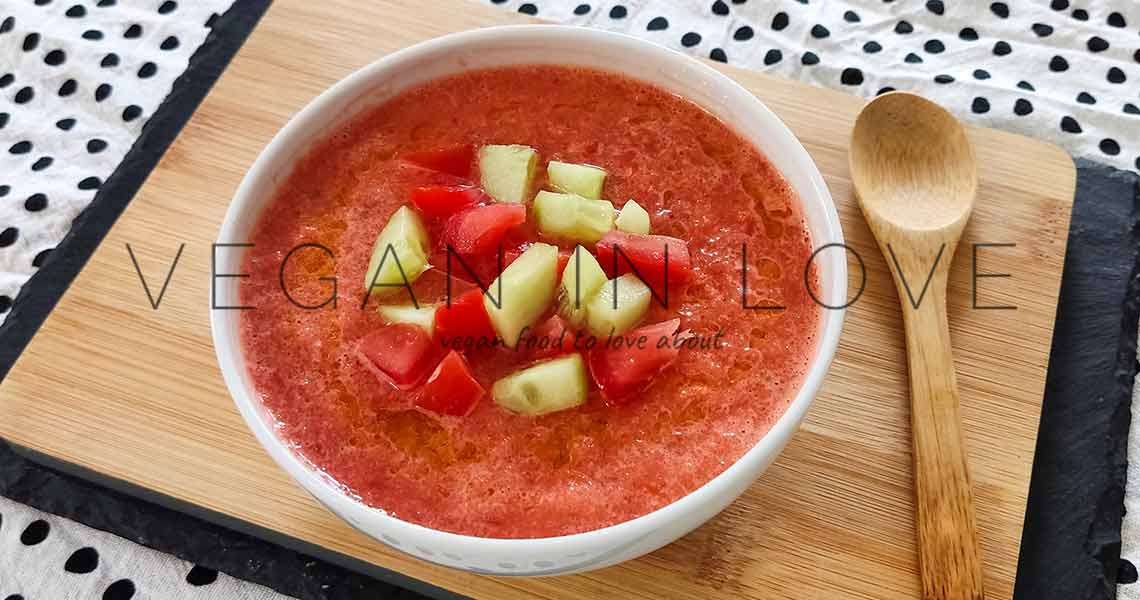 The gazpacho (also known as Andalusian gazpacho) recipe is a cold soup from Spain, made of fresh ingredients, and is best served cold. This traditional Spanish gazpacho recipe is ideal as a refreshing meal for those sweltering summer days. Furthermore, is a great recipe a summer parties to drink in shot glasses, and why not surprise your Spanish friends too?.
In addition to all these great things about gazpacho, this is also a healthy recipe full of nutrients, minerals, and vitamins; such as vitamin C.
HOW DO YOU MAKE THE BEST GAZPACHO?
If you want to make the best gazpacho recipe, then it is highly recommended to marinate the fresh vegetables with olive oil, vinegar, and a pinch of salt. I let my gazpacho recipe marinate for around 3 hr, but you can leave it for longer for even better results. Also, you can make it and let it marinate during the night and prepare the gazpacho in the morning.
In addition to this another step that will help a lot to achieve a completely smooth consistency is not only to remove the tomato and pepper seeds, but also remove the tomato and pepper skin. You can do this by boiling water and pouring it into a large bowl, and adding the tomatoes. Then carefully remove the tomato skin. Lastly, to remove the tomato and pepper skin you can use a peeler.
SEASONING FOR GAZPACHO
Although I only season with salt to let the tomato be the star of this recipe. However, you can be creative and try different seasonings; such as herbs and spices that will give an aromatic and delicious flavor. So if are making a traditional gazpacho or if you want to try new ideas check the following list for some seasoning inspiration.
Freshly ground pepper (black pepper).
Kosher salt.
Garlic powder.
Fresh herbs; such as parsley and/or basil.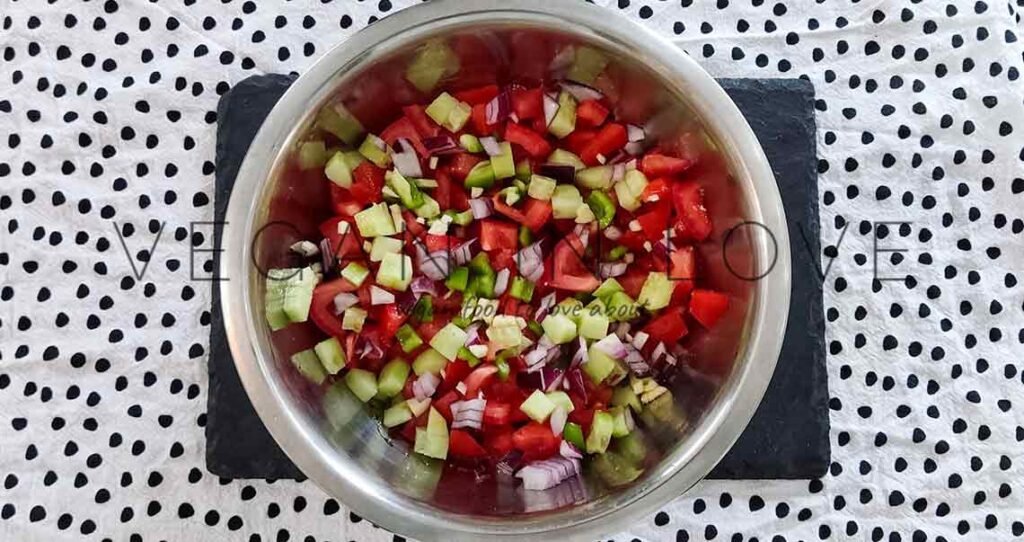 SPANISH GAZPACHO INGREDIENTS
In order to make gazpacho you will need raw vegetables and there are some variations with also fresh fruit; such as watermelon.
The star ingredient for this recipe is the ripe tomato and you can add red pepper, green pepper, garlic, and onion. However, try with small quantities, as these ingredients can give a strong flavor.
Fresh tomatoes.
Green bell pepper.
Red bell pepper.
Garlic.
Onion; such as white or red onion.
White bread.
Cucumber.
GAZPACHO SOUP TOPPINGS
You can eat gazpacho served cold on its own or you can also add some toppings to finish it off. So if you are looking for ideas to add on top of your chilled soup here you can find a few delicious ideas in the following list.
Chopped green onions/spring onions.
Tomatoes (chopped).
Bell peppers; such as red peppers/green pepper (chopped).
Homemade croutons (for the gluten-free option you can make roasted chickpeas).
Chopped cucumber.
Fresh herbs; for example rosemary, parsley, chives, and basil.
TIPS TO GET THE BEST GAZPACHO RECIPE
Tomatoes: well ripe tomatoes are ideal for this traditional gazpacho recipe, not only in terms of the delicious taste they will give to your gazpacho recipe but also to give a lovely red color (bear in mind that strong red color can be difficult to get). Tomatoes types for gazpacho recipe: Roma tomatoes, cherry tomatoes, red tomatoes, etc.
Vinegar: if you want to make an authentic gazpacho one of the key ingredients is the vinegar you use and finding Spanish vinegar; such as Vinagre de Jerez, might be difficult. However, don't worry as you can make this Spanish gazpacho with other vinegar types that should be more easy to find and will give a great flavor too. For example, you can use sherry vinegar and red wine vinegar.
Bread: this classic gazpacho recipe was not made with white bread, but you can add it depending on the consistency you want to get. Furthermore, you can adapt this delicious recipe if you have celiac disease or if you have gluten intolerance by replacing white bread with gluten-free bread of your choice. Moreover, if you want to avoid bread altogether you can skip this ingredient as I did.
Consistency: in addition to the bread you can regulate the gazpacho consistency with water if you want to have this chilled soup as a drink with a more fluid texture.
Serve cold: no doubt this is a cold soup great for a hot summer day, therefore chilling this gazpacho recipe is very important. In order to do that pour your gazpacho soup into an airtight container and refrigerate for at least 2hr (the longer the better). Moreover, you can serve gazpacho in chilled bowls.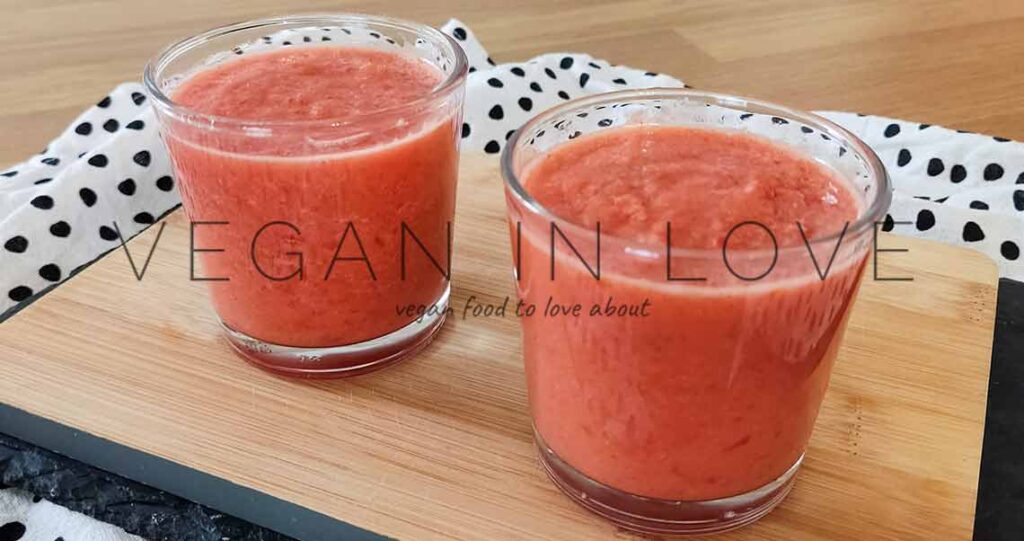 THIS DELICIOUS GAZPACHO RECIPE GOES WELL WITH: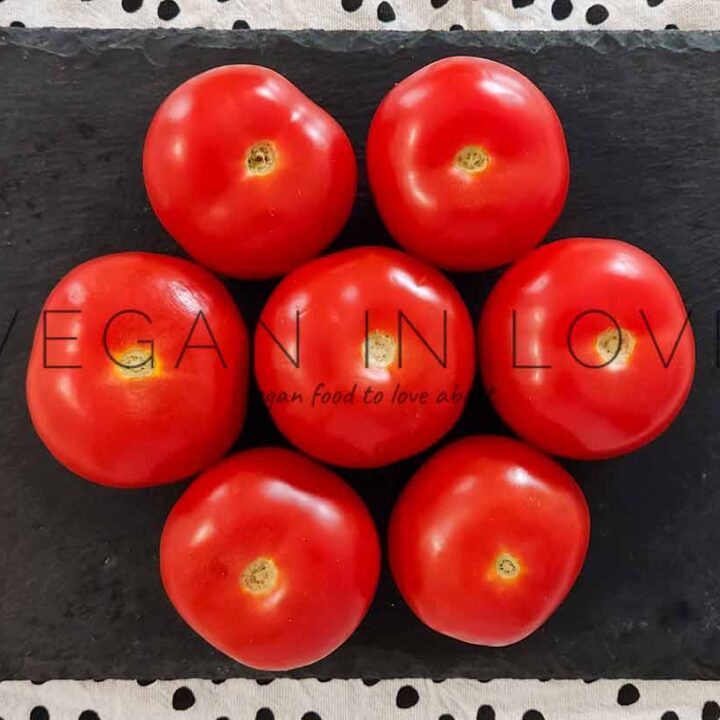 GAZPACHO RECIPE
Total Time:
4 hours
20 minutes
Delicious and easy-to-make Gazpacho soup made of fresh ingredients. This traditional Spanish soup is ideal for hot summer days and is best served cold.
Ingredients
1 Kg. of Ripe tomatoes.
1 Garlic clove.
¼ Red onion.
¼ Green pepper.
½ Cucumber.
1 Tbsp. of Wine vinegar.
30 ml. of Extra virgin olive oil.
½ Tsp. of Salt.
Instructions
MARINATION
Wash well the ripe tomatoes and green bell pepper. Remove the seeds and cut them into small cubes.
Place them in a large bowl.
Peel and dice the garlic and red onion and add them to the bowl.
Pour 1ml. of olive oil and a pinch of salt and give a good stir.
Let the gazpacho rest in the fridge for at least 2 to 3hr (if you can marinate it for longer the better).
GAZPACHO BLEND
Remove the bowl from the fridge and pour the ingredients into a food processor or blender (you will also have some water from the marination use it as well).
Blend the gazpacho in the food processor until you get the desired consistency*, then adjust the seasoning to taste (including the remaining olive oil and vinegar).
Pour the gazpacho into a bowl or an airtight container and refrigerate until consumption (this preparation is better served really cold).
Notes
*Depending on the consistency and texture you want to get, you can sieve the gazpacho.
I decided to marinate the ingredients first, as it gives a great flavor to the final result. However, if you don't want to do this you can skip this step.
Nutrition Information
Yield

4
Serving Size

1
Amount Per Serving
Calories

119
Total Fat

7g
Saturated Fat

1g
Trans Fat

0g
Unsaturated Fat

6g
Cholesterol

0mg
Sodium

304mg
Carbohydrates

12g
Fiber

3g
Sugar

8g
Protein

3g
The Nutritional values presented on this table are only estimates. The values can also vary depending on the cooking method, ingredients, product brands etc. This data was provided and calculated by Nutritionix.
MORE RECIPES WITH FRESH TOMATOES
YOU MIGHT ALSO LIKE…
---
---