BROWNIE WITH PEANUT BUTTER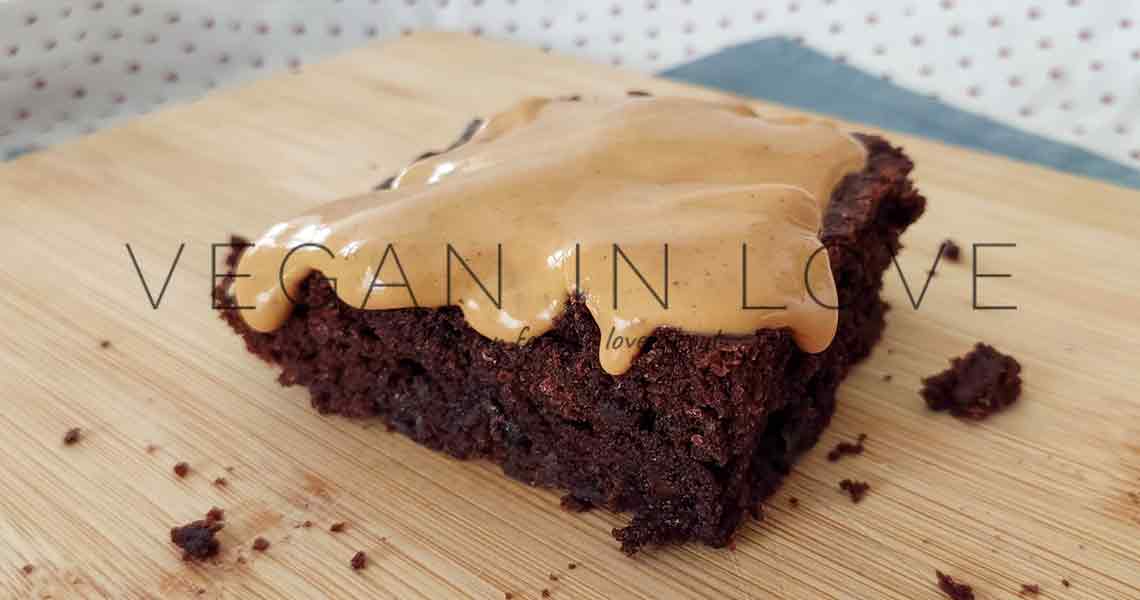 This brownie with peanut butter recipe is amazing, super easy to make, and is great to prepare as a dessert for any occasion. Made with simple and easy-to-find ingredients. For this recipe, I only used 3 tbsp. of creamy peanut butter, as later on I added more peanut butter layer as a topping.
HOW TO PUT PEANUT BUTTER IN BROWNIES?
Brownies are always a crowd favorite, and this recipe is sure to be a hit. This chocolate peanut butter brownie recipe is quick and simple to make, and it only requires a few ingredients. Peanut butter is not only a delicious ingredient to add flavor to these brownies, but I also used it to replace the eggs in this recipe. In this case, 3 tbsp. would be the equivalent of 1 egg approx. However, if you want to have a stronger flavor of peanut butter, you can add more and reduce the amount of plant-based milk.
Nut allergies or intolerance? What can replace eggs in brownies? Other vegan ingredients can be used to replace eggs when baking; for example apple sauce (4 tbsp), mashed banana (half), and vegan yogurt (4 tbsp).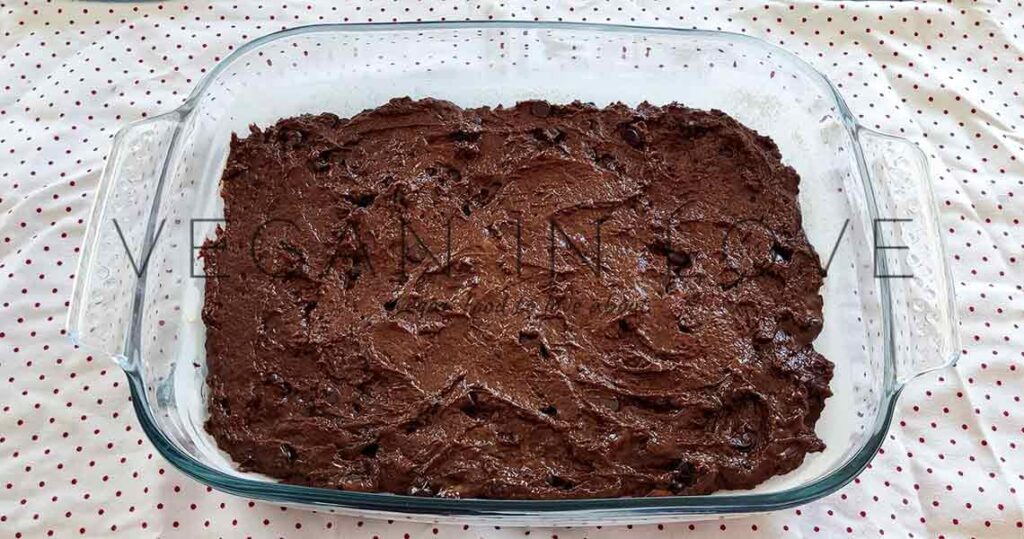 BROWNIE WITH PEANUT BUTTER TOPPING
Peanut butter and chocolate are classic flavor combinations that can be enjoyed in many different ways. One of my personal favorite ways to enjoy this flavor combination is by making brownies with peanut butter on top. For this recipe, I used smooth peanut butter, but you can also try crunchy peanut butter too!
Although I used peanut butter for these delicious brownies, you can also try other nut butter or creams, such as:
Almond.
Cashew.
Hazelnut.
Pecan.
Furthermore, you can always add more toppings to this indulgent recipe; such as dried fruit. A classic ingredient or topping at the same time is walnuts, but you can use the ones that you prefer. Moreover, you can try this recipe together with vegan vanilla ice cream.
TOP TIPS:
Cooking: Place the baking tray in the center/middle of the oven, in order to achieve more evenly cooked brownies. Cooking times: can vary depending on the oven you use. To get soft and moist brownies try to avoid high temperatures or cook for longer than necessary. It's better to cook for 20 minutes or less and then check if they are cooked to your taste. If they are undercooked place them again in the oven and cook for a few more minutes.
Cutting your brownies: let them cold down first for a few minutes before cutting your brownies as they tend to be moist and they will stick to the knife. If it's possible try to use a sharp knife. Also, to remove the peanut butter brownies from the baking tray use a cooking turner spatula.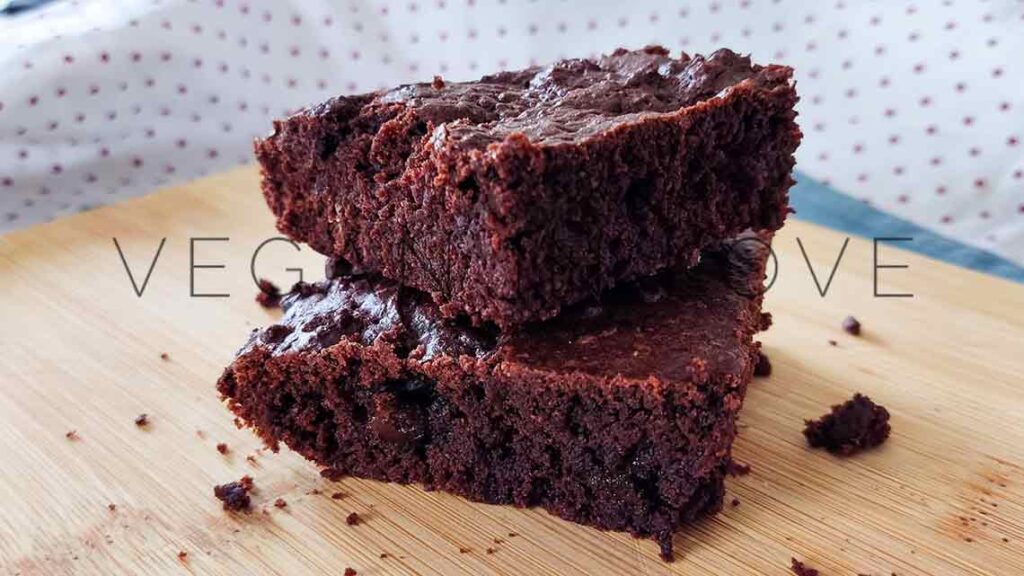 THIS BROWNIE RECIPE GOES WELL WITH: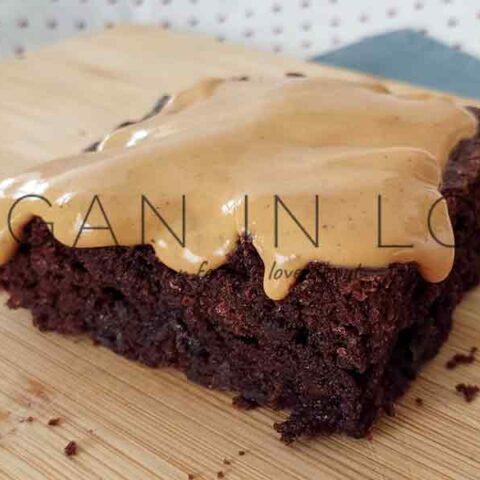 BROWNIE WITH PEANUT BUTTER
This Brownie recipe is not only delicious and moist, but it's also easy to make. This vegan-friendly brownie recipe is great for a fancy and indulgent dessert.
Ingredients
Brownie with Peanut butter
200 gr. of Self-raising flour.
100 gr. of Demerara sugar.
50 gr. of Unsweetened cocoa powder.
¼ Tsp. of Salt.
50 gr. of Dark chocolate chips.
100 ml. of Oil*.
220 ml. of Plant-based milk.
3 Tbsp. of Peanut butter**.
Cooking
½ Tsp. of Vegan butter or oil.
1 Tsp. of Flour.
Assemble
1 Tbsp. of Peanut butter per brownie.
Instructions
In a glass oven-proof baking tray (29cm /11 inches x 22cm/8.5 inches), spread ½ tsp of vegan butter or vegetable oil. Then, sprinkle 1 tsp. of flour and spread evenly.
Preheat the oven to 180 °C degrees (356 °F approx.).
In a bowl sieve 200 gr. of self-raising flour, 50 gr. of unsweetened cocoa powder, 100 gr. of demerara sugar, ¼ tsp. of salt, and 50 gr. of dark chocolate chips (if you don't have this ingredient extra add 50 gr. of cocoa powder). Mix well.
In another bowl pour 100 ml. of vegetable oil, 220 ml. of plant-based milk, and 3 tbsp. of Peanut butter. Stir well.
Pour the wet ingredients into the dry ingredients little by little and mix well.
Pour the brownie mix into the baking tray and spread well.
Place the baking tray in the center of the oven and cook for around 20 minutes.
Once the brownies are cooked let them cold down for a few minutes to cut them and serve.
Notes
* You can use coconut oil, sunflower, vegetable oil, etc.
**I used Powdered peanut butter and then mix it with water, as this type of peanut butter is significantly reduced in oil. However, you can use traditional peanut butter.
With this recipe, I got 12 Brownies of around 4 to 5 cm.
Nutrition Information
Yield

12
Serving Size

1
Amount Per Serving
Calories

274
Total Fat

15g
Saturated Fat

2g
Trans Fat

0g
Unsaturated Fat

11g
Cholesterol

5mg
Sodium

297mg
Carbohydrates

30g
Fiber

2g
Sugar

12g
Protein

5g
The Nutritional values presented on this table are only estimates. The values can also vary depending on the cooking method, ingredients, product brands etc. This data was provided and calculated by Nutritionix.
RELATED RECIPES
YOU MIGHT ALSO LIKE…
---
---