VEGAN SAUSAGE CASSEROLE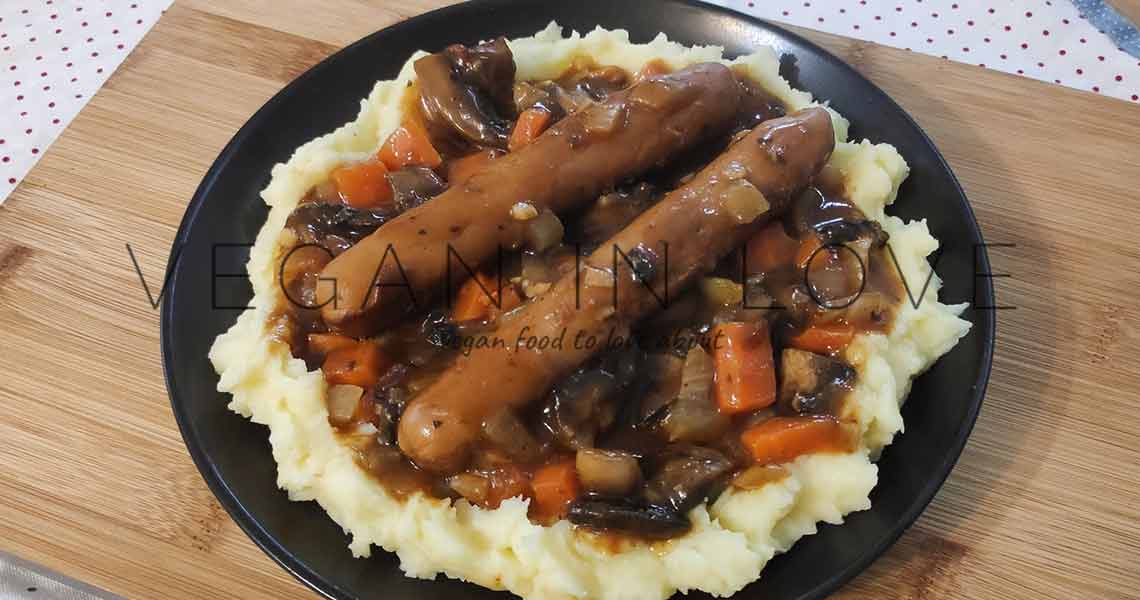 Delicious and super easy to make this vegan sausage casserole that you can prepare for many occasions; for example a lovely Sunday lunch meal. This comforting and tasty dish can be easily prepared on a baking tray and cooked in the oven. Then make a yummy and creamy potato mashed that matches really good with this vegan casserole. As a result, you will create a hearty and warm vegan dish to enjoy with family and friends.
SAUSAGE CASSEROLE SEASONING
To prepare and season this delicious and comforting vegan sausage casserole, I used some classic dried herbs, such as parsley and oregano. However, you can use other dried or even chopped fresh herbs to add flavour to this yummy recipe; for example, rosemary. In addition to this, you can also make this recipe spicier and add chopped fresh chilli or chilli flakes. Furthermore, take it to the next level with smoked liquid. Check the list below for more seasoning ideas.
Liquid smoke.
Basil.
White pepper.
Chives.
Thyme.
Coriander.
Sage.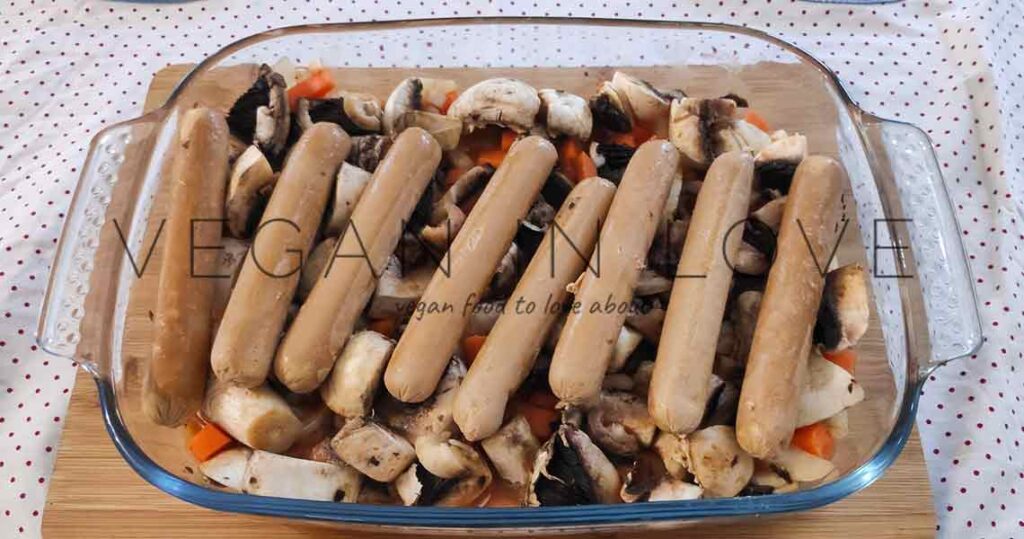 EXTRA INGREDIENTS FOR SAUSAGE CASSEROLE
Although this is a sausage casserole, you can apply this recipe to other meat-free vegan alternatives too. If you don't have vegan sausages to prepare this dish, you might have other vegan products you can use too. That's alright, you can try this recipe with other meatless food; for example, vegan meatballs, vegan mince, or, even vegan burgers. Furthermore, you can also add more vegetables to this super easy vegan casserole. So for more ideas for extra yummy ingredients check the following list.
Parsnip.
Leek.
Peppers: red, yellow, or green.
Broccoli.
ColiflowerCauliflower.
Eggplant/aubergine.
THIS RECIPE GOES WELL WITH: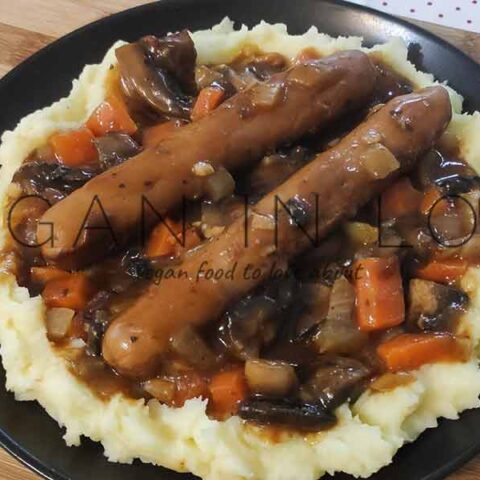 Vegan sausage casserole
Super easy and simple to make this vegan sausage casserole. Prepare this delicious and comforting main dish to enjoy a great meal with family or friends!
Ingredients
Casserole
1 Large onion.
1 large carrot.
2 Garlic cloves.
150gr. of Mushrooms.
8 Vegan sausages.
Casserole sauce
300ml. of Water.
1 Tbps. of Cornflour.
1 Tsp. of Parsley.
1 Tsp. of Onion powder.
1 Tsp. of Paprika.
1 Tbsp. of Tomato puree.
1 Pinch of Black pepper.
1 Tsp. of Oregano.
1 Tbsp. of Soysauce.
Mashed potatoes
1 Litre of Water.
600 gr. of Potatoes.
2 Tbsp. of Olive oil.
200 ml. of Plant-based milk.
½ Tsp. of Garlic powder.
½ Tsp. of Ground nutmeg.
¼ Tsp. of Himalayan salt.
Instructions
CASSEROLE
Peel and cut the onion, carrot, mushrooms, and garlic cloves. Then place them in an oven baking tray and mix them up.
Add on top your vegan sausages.
CASSEROLE SAUCE
Preheat the oven to 180 °C degrees (356 °F approx.).
In a bowl pour 300 ml. of water, 1 tbsp. of cornflour, 1 tsp. of parsley, 1 tsp. of onion powder, 1 tsp. of paprika, 1 tbsp. of tomato puree, 1 pinch of black pepper, 1 tsp. of oregano, 1 tbsp. of soy sauce. Mix well.
Then, pour the casserole sauce on top of the vegetables and sausages on the baking tray.
Cover the tray with a lid, suitable for the oven or you can use aluminum foil.
Cook in the oven for 20 minutes, then remove and stir the ingredients.
Cover and return to the oven and cook for another 20 minutes.
MASHED POTATOES
Wash, peel, and dice the potatoes. Cook them in 600 ml. of boiling water for around 25 minutes or until they get soft Also, you can steam them.
Once they are cooked for a mash, drain them and place them in a large bowl.
Prepare the mash with a fork or a potato masher.
Pour 200 ml of plant-based milk and 2 tbsp of olive oil (you can avoid this if you prefer an oil-free mash). Integrate well.
Season to taste with: ½ tsp. of garlic powder, ½ tsp. of ground nutmeg, and ¼ tsp. of Himalayan salt. Mix well.
ASSEMBLE
Serve a portion of potato mash on a plate and then serve the sauce on top or the side of the potato mash.

Notes
*To make this recipe gluten-free friendly, check the label of the: soy sauce and vegan sausages.
Nutrition Information
Yield

4
Serving Size

1
Amount Per Serving
Calories

687
Total Fat

47g
Saturated Fat

14g
Trans Fat

0g
Unsaturated Fat

26g
Cholesterol

87mg
Sodium

1528mg
Carbohydrates

44g
Fiber

6g
Sugar

9g
Protein

24g
The Nutritional values presented on this table are only estimates. The values can also vary depending on the cooking method, ingredients, product brands etc. This data was provided and calculated by Nutritionix.
YOU MIGHT ALSO LIKE…
---
---