MUSHROOM RAGU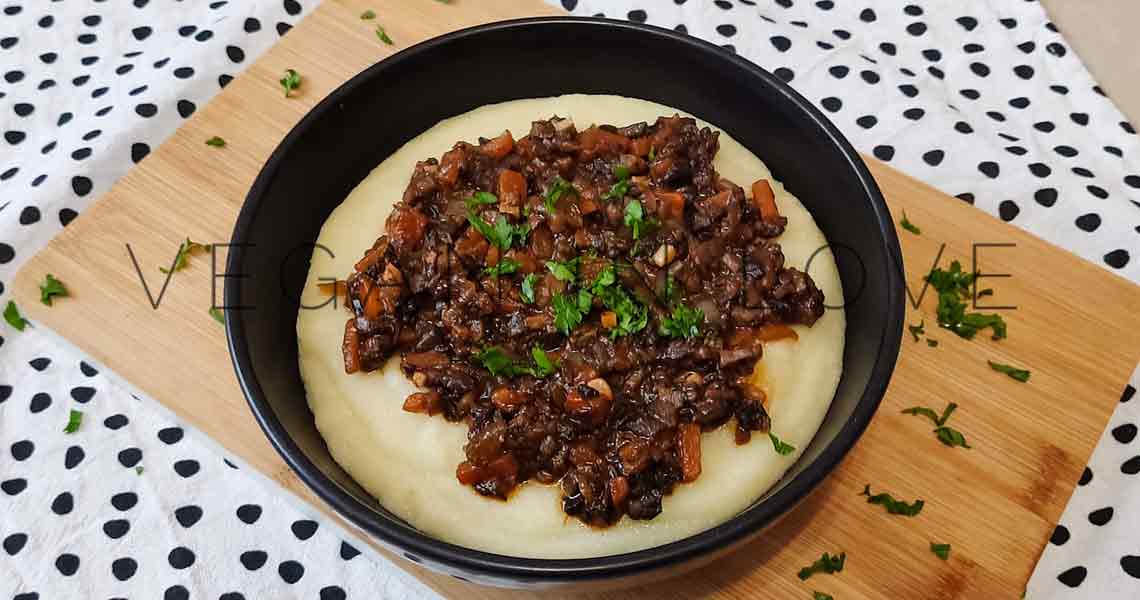 Ragù or ragu is an Italian traditional meat-based sauce typically served with pasta. In order to make this delicious Italian dish into a vegan recipe I remove the ground meat and I add mushrooms. What is great about mushrooms is that they are not only healthy, nutritious, and delicious they are great as they have a meaty texture.
If you love this hearty classic Italian dish and you want to avoid or reduce your consumption of meat and want to enjoy a vegan recipe, then this is the recipe for you. Furthermore, even though I only used one type of mushroom you can make this recipe with a huge variety of mushrooms. Additionally, why not make this lovely recipe with mixed mushrooms, by doing this the ragu can have more flavors and textures.
SEASONINGS FOR MUSHROOM RAGU
In order to season this ragu you can use the traditional seasonings as luckily most of them are vegan or you can use a vegan-friendly option; for example, use a vegan red wine that won't miss in flavor. In addition to this, if you want to get more seasoning ideas then check the list below to inspire you.
MUSHROOM SAUCE
Fresh herbs; for example fresh thyme, cilantro, and/or basil.
Ground black pepper.
Kosher salt.
Tomato paste or tomato sauce.
Peppers; such as red and green peppers.
POLENTA
Unsalted butter (vegan).
Margarine.
Extra virgin olive oil.
Plant-based milk.
Lastly, if you want to enjoy this fantastic dish with a creamy polenta as I did, you can give extra flavor to your polenta by adding not only vegetable broth when you cook it, but when it's already cooked add some vegan butter and parmesan cheese (vegan).
ALTERNATIVE INGREDIENTS FOR MUSHROOM RAGU
Even though for this mushroom ragù sauce recipe I only used one type of mushrooms, you can select the ones you want. Furthermore, you can mix more than one type of mushroom and create an absolutely delicious mixed mushroom ragù recipe. Additionally, besides using fresh mushrooms you can try dried mushrooms too.
MUSHROOM OPTIONS
Shiitake mushrooms.
Cremini mushrooms.
Portobello mushrooms.
Wild mushrooms.
Button mushrooms.
Dried mushrooms; such as dried porcini mushrooms.
OTHER INGREDIENTS
Chopped walnuts.
Lentils; such as red, green, or brown.
Yellow onion.
Leek.
Green onions/spring onions.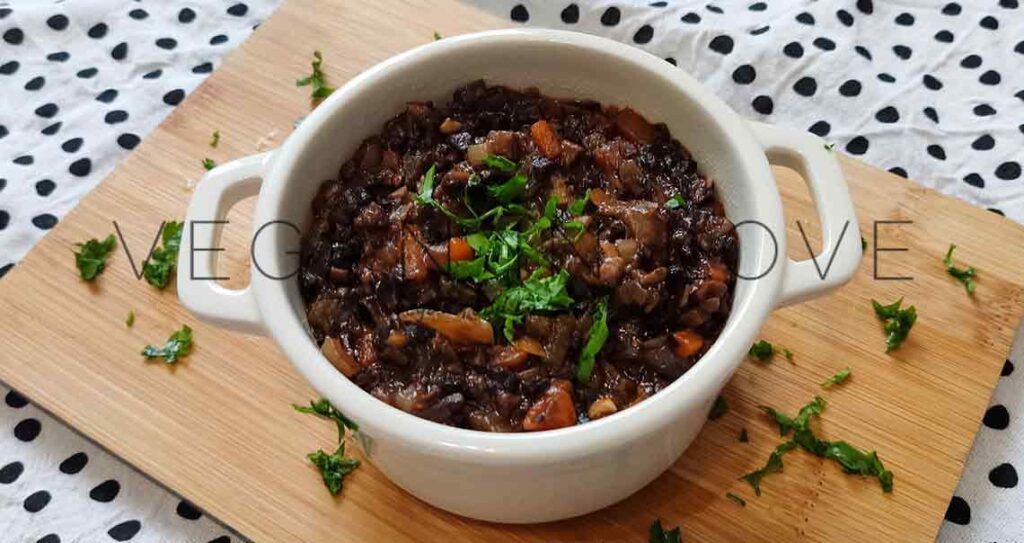 WHAT TO EAT MUSHROOM RAGU RECIPE
Although this mushroom ragu recipe was made together with creamy polenta, you have other traditional and non-traditional options to eat this mushroom sauce with. Moreover, this is a great mushroom sauce that you can use as a topping in a classic spaghetti dish al dente, your favorite pasta, or as a filling when making a vegan lasagne.
Pasta; such as wholewheat and gluten-free pasta.
Rice; for example basmati, jasmine, brown rice, long grain white rice, etc.
Pizza topping.
Mashed potatoes.
As a filling or base for vegan lasagna, cannelloni, and moussaka.
IS POLENTA GLUTEN-FREE?
Polenta is made of corn (although you can find other varieties and ingredients) and therefore is gluten-free; however, if you have celiac disease or gluten intolerance make sure you buy a brand that is certified gluten-free. The main reason for this is that polenta may or can be produced in a place where other products are made, and these other products may contain gluten. Therefore, in that case, it may be cross-contamination where it can't be guaranteed that their polenta is gluten-free.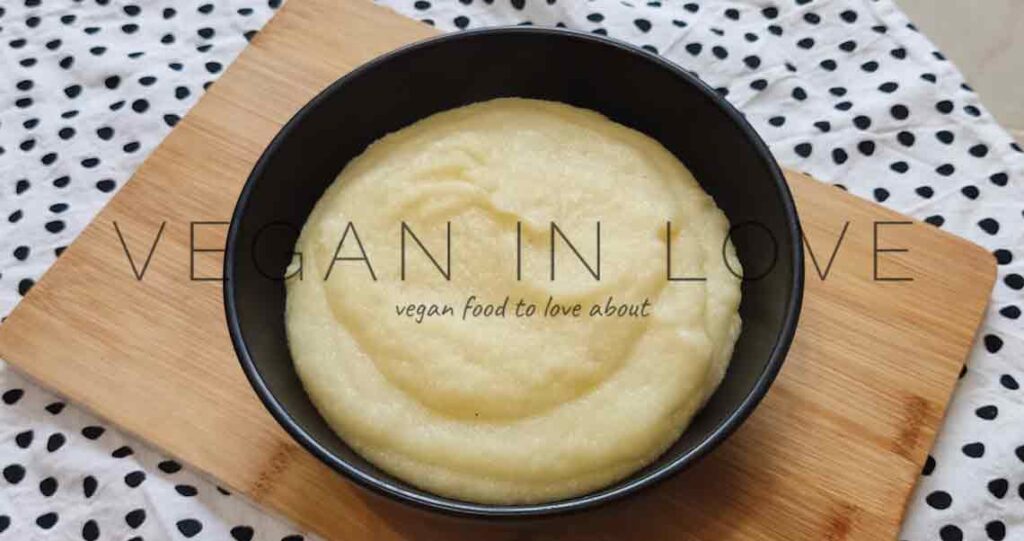 THIS MUSHROOM RAGU RECIPE GOES WELL WITH: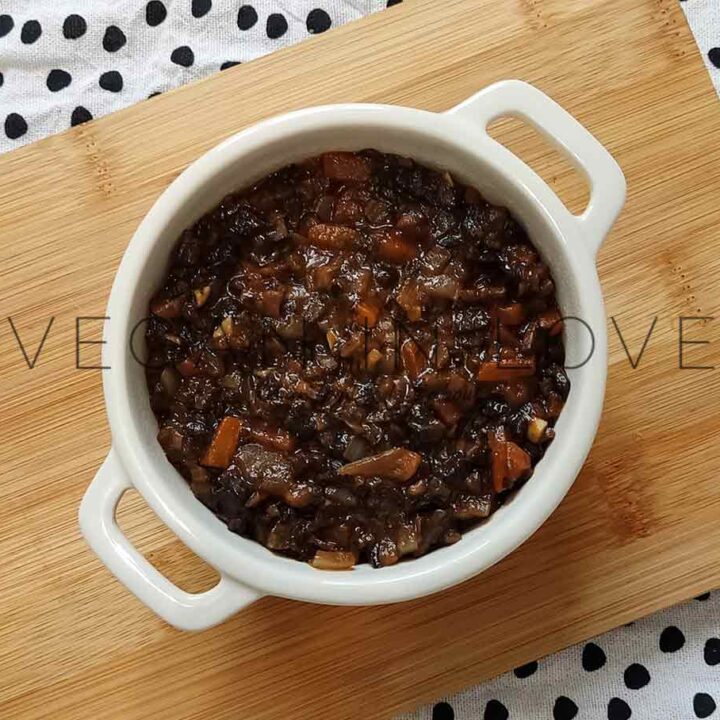 MUSHROOM RAGU
Vegan Mushroom ragu is made of delicious and easy-to-find ingredients. Enjoy this great, gluten-free, healthy vegan recipe as a main dish for any occasion.
Ingredients
mushroom ragu
250 gr. of Mushrooms.
100 ml. of Vegan red wine.
1 Celery stick.
1 Medium carrot.
1 Onion.
2 Garlic cloves.
1 Tbsp. of Olive oil.
150 ml. of Vegetable stock.
¼ Tsp. of Himalayan salts.
Polenta
1 Litre of Vegetable stock.
200 gr. of Instant polenta.
Assemble
A handful of fresh parsley.
Instructions
MUSHROOM RAGU
Clean and finely chopped the fresh mushrooms, onion, celery stick, and carrot.
Place them in a large saucepan at medium heat and add salt and 1 tbsp. of olive oil. Cook stirring occasionally.
Then, add the finely chopped garlic cloves together with the red wine and stir well.
Let the alcohol from the red wine evaporate and then add the vegetable stock or vegetable broth.
To get a slightly thickened vegan ragù cook this vegan recipe at medium-low heat stirring frequently and let the liquid evaporates. You can decide how thick or fluid you want your vegan mushroom ragù. Adjust seasoning and add more salt if necessary.
POLENTA
In a large pot pour 1 liter of vegetable stock and bring to a boil.
Remove the large pot from the heat and add the instant polenta slowly and stirring constantly.
Place the pot back on the stove and cook stirring often.
ASSEMBLE
Place a portion of your creamy polenta in a soup bowl and pour it on top of the mushroom ragu.
Additionally, you can sprinkle fresh parsley (finely chopped) or vegan parmesan cheese.
Nutrition Information
Yield

3
Serving Size

1
Amount Per Serving
Calories

198
Total Fat

8g
Saturated Fat

3g
Trans Fat

0g
Unsaturated Fat

5g
Cholesterol

8mg
Sodium

1448mg
Carbohydrates

21g
Fiber

4g
Sugar

7g
Protein

5g
The Nutritional values presented on this table are only estimates. The values can also vary depending on the cooking method, ingredients, product brands etc. This data was provided and calculated by Nutritionix.
RELATED RECIPES
YOU MIGHT ALSO LIKE…
---
---