SUNDRIED TOMATO AND PASTA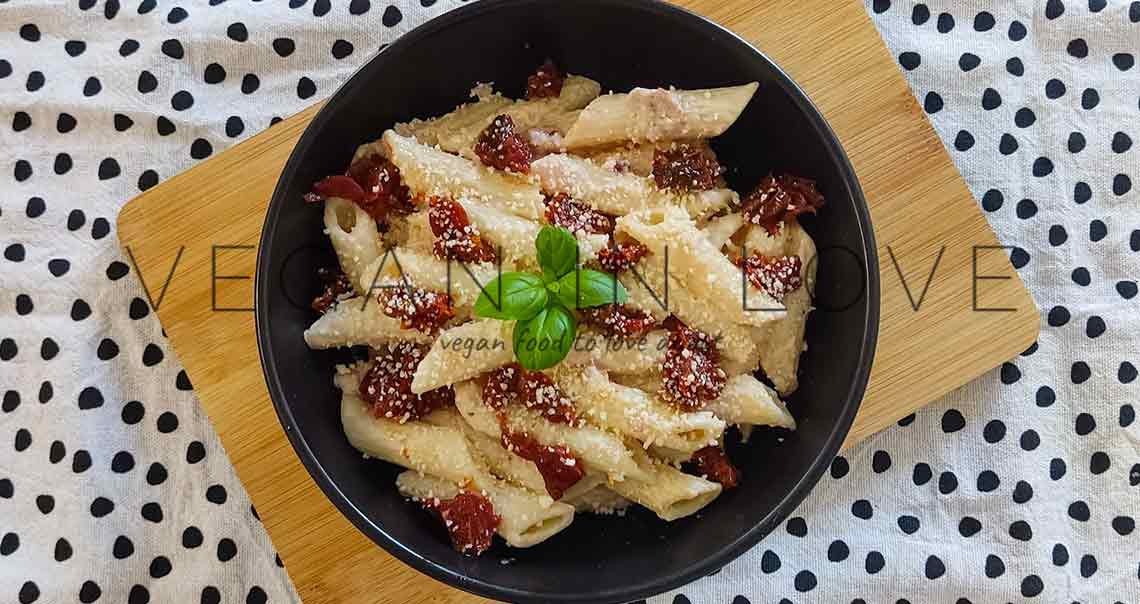 Are you looking for a quick and easy meal that's both satisfying and delicious? Look no further than sun-dried tomato pasta! This classic pairing is a go-to for busy weeknights, lazy weekends, and everything in between.
Whether you're cooking for yourself or feeding a crowd, this versatile dish is sure to please. With its rich, savory flavor and hearty texture, it's the perfect comfort food for any occasion. And best of all, it's incredibly easy to make. With just a few simple ingredients and basic cooking skills, you can whip up a delicious pasta dish that will leave your taste buds singing. So why wait? Grab some sundried tomatoes, your favorite pasta, and get ready to enjoy a meal that's both quick and satisfying!
TYPES OF PASTA TO PAIR WITH SUN-DRIED TOMATOES
There are countless types of pasta available, each with its unique shape and texture. When it comes to pairing pasta with sun-dried tomatoes, the possibilities are endless. However, some types of pasta work better than others.
One popular option is penne pasta. Its tube shape makes it perfect for holding onto the chunky sauce, and its ridges help to capture all the flavors. Another great option is fusilli or spiral pasta. Its corkscrew shape allows it to hold onto the sauce and other ingredients, making for a delicious and satisfying meal.
If you're looking for something a little more unique, try Orecchiette. Its small, ear-shaped design is perfect for catching and holding onto small pieces of sun-dried tomatoes. Alternatively, if you're in the mood for something a little heartier, try using rigatoni. Its large, tube-like shape makes it perfect for holding onto thick, chunky sauces.
In addition to this, this is a great recipe to make if you have leftover pasta and don't know what to make with it. Moreover, by using leftover pasta you will reduce food waste too.
Lastly, if you don't or cannot eat gluten, you can add this flavorful sauce to gluten-free pasta: for example chickpea pasta.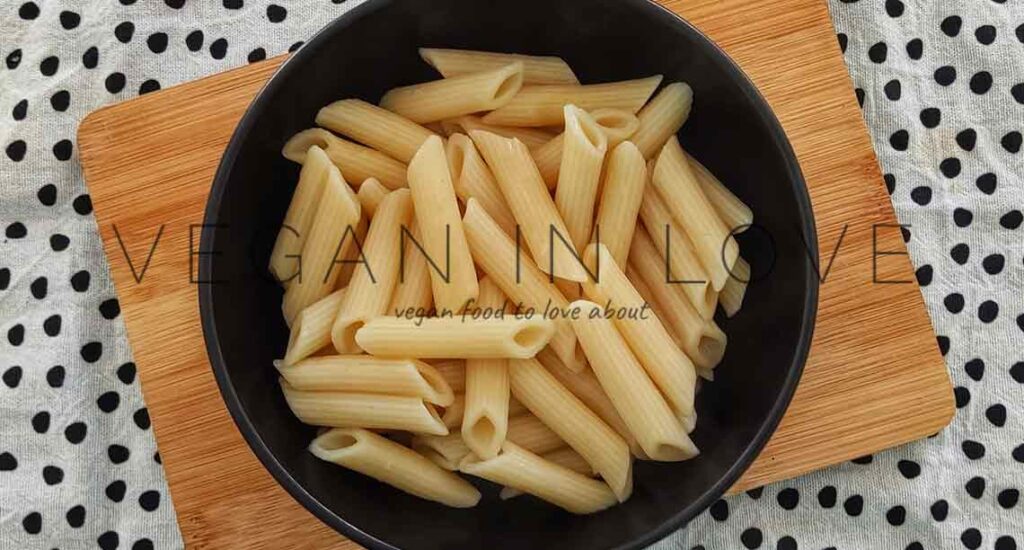 INGREDIENTS FOR SUN-DRIED TOMATO SAUCE
SEASONING
To give an amazing taste to this creamy sun-dried tomato pasta recipe I used: olive oil, lemon juice, garlic powder, vegan mayo, and homemade vegan parmesan cheese. However, you can also add other delicious and aromatic seasonings to this sundried tomato pasta. Check the following list to get more inspiration.
ADDITIONAL SEASONING IDEAS
Crushed red pepper flakes.
Fresh basil.
Italian seasoning.
Vegan heavy cream.
Italian herbs.
Kosher salt.
Fresh ground black pepper.
Onion powder.
Paprika.
For the main ingredients for this sun-dried tomato pasta recipe, I decided to use sun-dried tomatoes and red onion, as I like how well they go together. Also, I didn't want to overload this sun-dried tomato pasta with more ingredients, and let the sun-dried tomatoes be the star of this recipe. However, if you don't have a busy weeknight and you want to add more ingredients, check the list below.
ADDITIONAL INGREDIENTS
Baby spinach.
Minced garlic.
Yellow squash.
Sautéed asparagus.
Pitted olives; for example black and green.
Peppers.
Sweetcorn.
RECIPE VARIATIONS
This absolutely delicious sun-dried tomato pasta recipe it's great just as it is, easy, quick, and simple. Alternatively, you can make this tomato pasta according to your taste, personal preferences, and if you are making this recipe for your guests you can adapt this recipe.
This is a fresh sun-dried tomato pasta that is best served cold and you only need to cook the pasta. If you want a hot pasta then you can place a large pot at medium heat and pour the olive oil. Then add chopped onion and thin strips of sun-dried tomatoes (you can also add minced garlic), season to taste, and add the cooked pasta (al dente) and mix them well. Lastly, add the vegan parmesan cheese and fresh basil on top and serve warm.
LEFTOVER PASTA
If you are preparing this recipe in advance to take for a party or to consume later on, place it in an airtight container and keep refrigerated until consumption. The same applies if you have leftover sun-dried tomato pasta.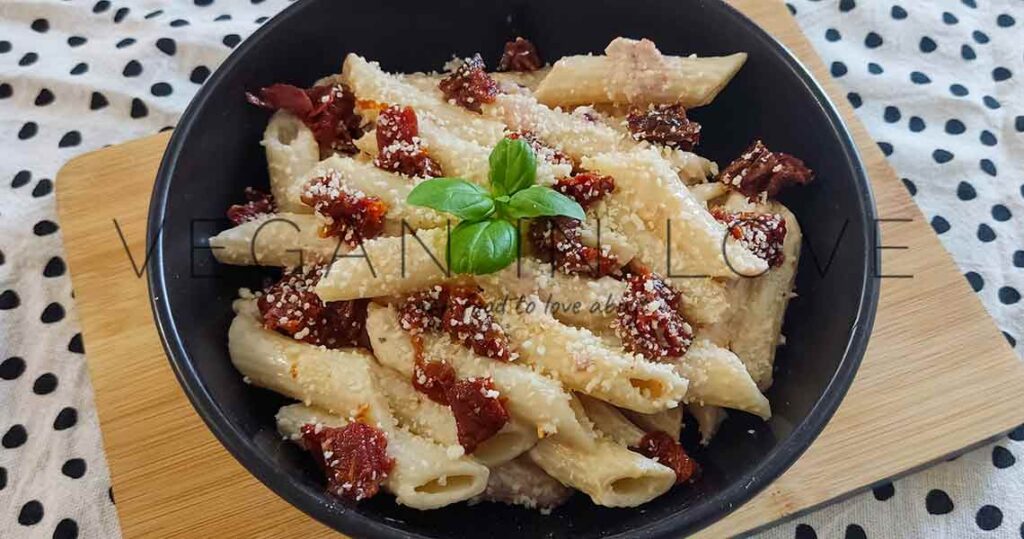 THIS SUN-DRIED TOMATO PASTA GOES WELL WITH THE FOLLOWING: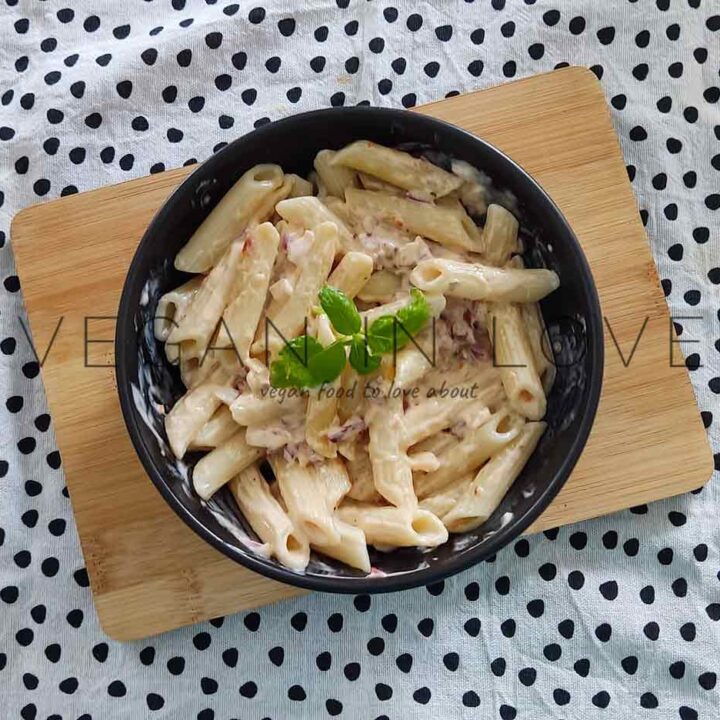 SUN-DRIED TOMATO PASTA RECIPE
Refreshing, easy, and quick to make this sun-dried tomato pasta with easy-to-find and affordable ingredients. Enjoy this delicious recipe as a main dish or side dish.
Ingredients
pasta
250 gr of Penne pasta.
1 Litre of water.
A pinch of salt.
Creamy sauce
2 Tbsp. of Vegan mayo.
½ Tsp. of Mustard.
4 Sun-dried tomatoes.
Half red onion.
1 Tbsp. of Fresh lemon juice.
2 Tbsp. of Extra virgin olive oil.
Instructions
PASTA
Place a large pot at high heat with 1 liter of water and add salt. Once the water starts boiling add the pasta and stir well. Cook the pasta according to the package instructions. The pasta should be cooked al dente.
Drain the pasta water, set aside, and let the pasta cool down at room temperature.
CREAMY SAUCE
Chop the red onion and the sundried tomatoes.
Add the chopped sundried tomatoes and chopped onion in a large bowl.
Then, add the mayo, olive oil, lemon juice, garlic powder, and mustard, and add salt.
Mix well the pasta sauce well and adjust the seasoning if necessary.
Add the pasta to the sauce and mix well.
SERVE
Serve the sun-dried tomato pasta and sprinkle vegan parmesan cheese on top.
Nutrition Information
Yield

2
Serving Size

1
Amount Per Serving
Calories

421
Total Fat

22g
Saturated Fat

4g
Trans Fat

0g
Unsaturated Fat

18g
Cholesterol

2mg
Sodium

202mg
Carbohydrates

47g
Fiber

3g
Sugar

4g
Protein

9g
The Nutritional values presented on this table are only estimates. The values can also vary depending on the cooking method, ingredients, product brands etc. This data was provided and calculated by Nutritionix.
MORE EASY PASTA RECIPES
YOU MIGHT ALSO LIKE…
---
---