RECIPE FOR BANANA BROWNIES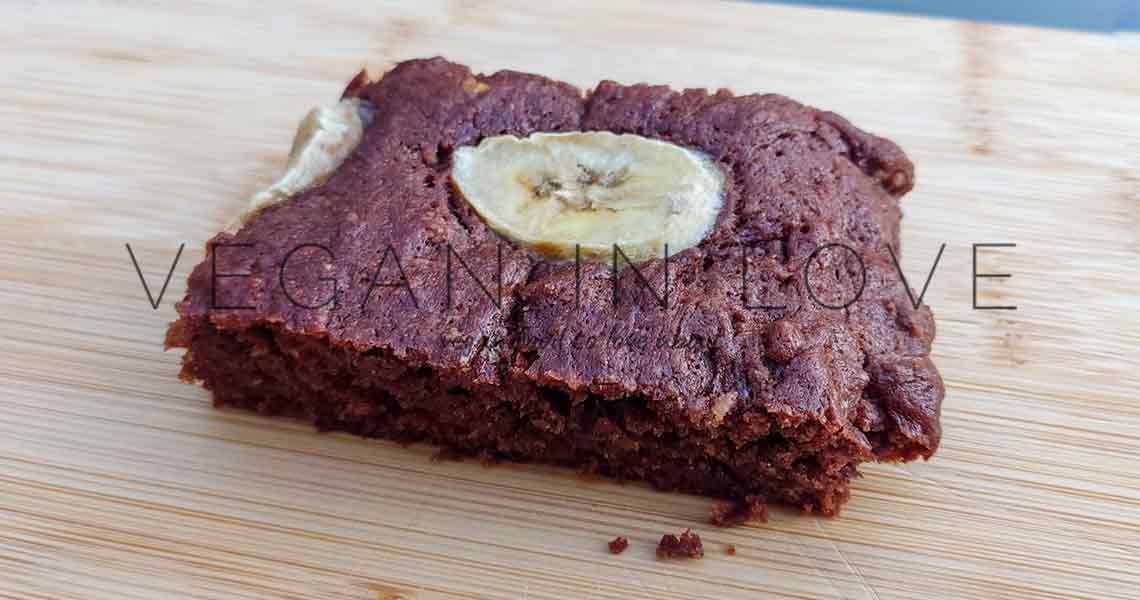 The idea to prepare banana brownies occurred to me when I woke up in the morning and found a bunch of ripe bananas that were about to go bad. I had a whole day ahead of me, so I decided to use these bananas to make something delicious. However, I didn't want to bake banana bread or a banana cake I wanted to bake something different.
For the purpose of this brownie recipe, as this is a vegan recipe ripe bananas are a great ingredient to replace eggs when we bake a dessert; such as cakes and muffins. So I thought chocolate and banana brownies would be a great combination. Therefore, by using overripe bananas with dark spots you can make eggs-free brownies and reduce food waste at the same time.
BANANA BROWNIES ALTERNATIVES
Although I used bananas to replace eggs another alternative you can try and tell us in the comments is using mashed avocados to replace this key ingredient when baking. As well as replacing the eggs if you don't want to use vegetable oil you can use melted vegan butter or margarine. Moreover, you can add more ingredients when making the banana brownie batter, so use your creativity and try the ideas listed down below or try other ingredients that you like and already have at home.
Raisins.
Vegan marshmallows.
Dates.
Dark chocolate chips.
Melted dark chocolate.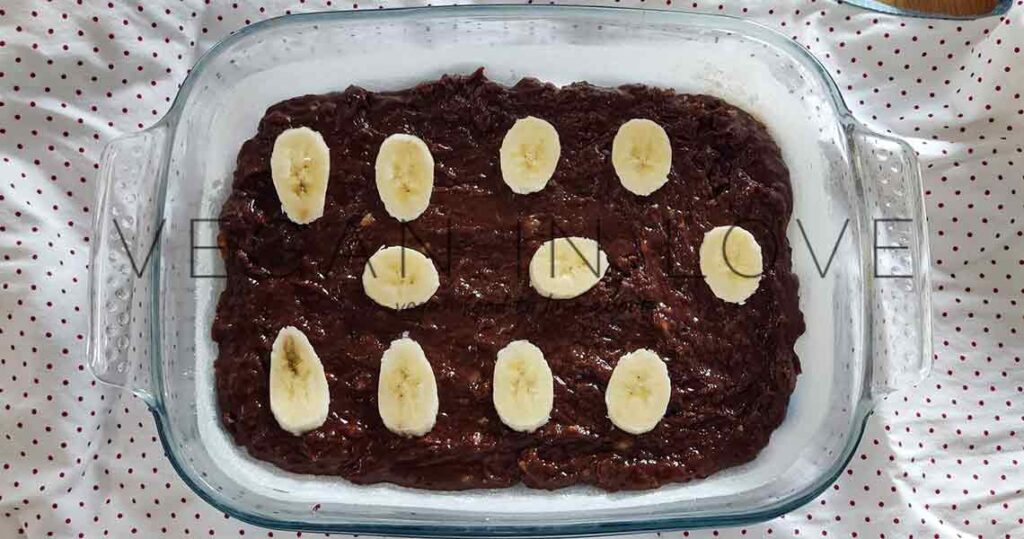 BANANA BROWNIES TOPPINGS
For these banana brownies I decided to decorate them with slices bananas on top; however, there are many other yummy options that you can try. Moreover, you can add these extra ingredients before cooking or once your brownies are fully cooked and cool completely at room temperature.
Peanut butter.
Frosting.
Icing sugar.
Pumpkin seeds.
Chopped nuts; such as chopped walnuts, pistachios, and almonds.
Additionally, you can enjoy these delicious vegan banana brownies together with ice cream. For example, you can make this recipe and also Coconut and Mango ice cream.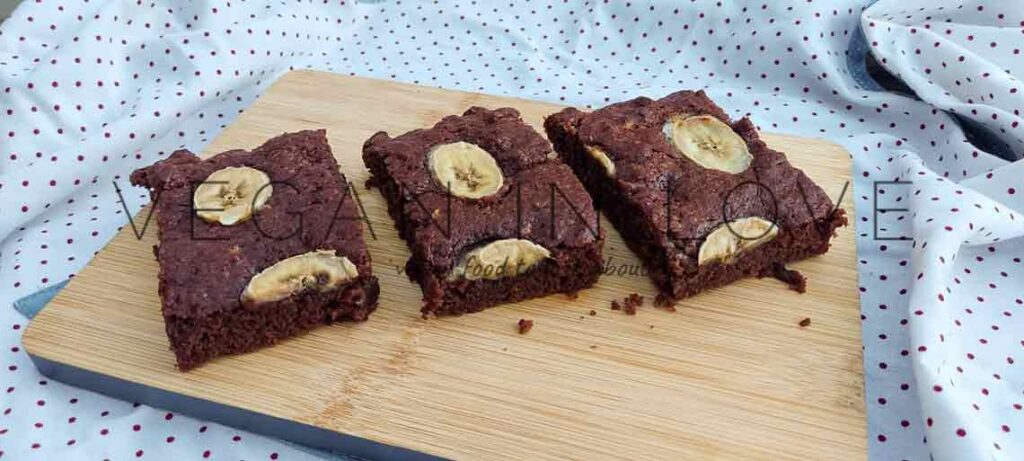 THIS RECIPE GOES WELL WITH: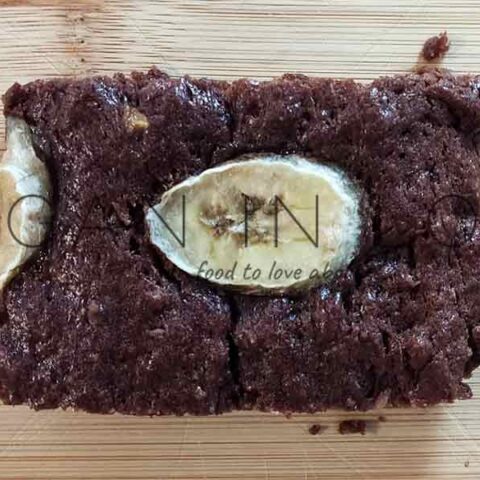 RECIPE FOR BANANA BROWNIES
Delicious homemade banana brownies recipe made with ripe bananas. These vegan brownies are super easy to make & you can enjoy them for breakfast or as a dessert.
Ingredients
Banana brownies
2 Overripe bananas.
½ Overripe banana.
½ Cup of vegetable oil.
1 Tsp. of Vanila extract.
1 Cup of Self-raising flour.
½ Cup of Demerara sugar.
¼ Cup of Cocoa powder.
1 Pinch of Salt.
Baking pan
1 Tsp. of Vegetable oil.
1 Tsp. of Flour.
Instructions
Preheat the oven to 350 °F degrees (180 °C approx.).
Spread 1 teaspoon of vegetable oil in a baking pan, then sprinkle 1 teaspoon of flour.
In a mixing bowl add 2 peeled ripe bananas and prepare a mash with a fork.
Then add the vegetable oil of your choice and 1 tsp. of vanilla extract. Mix well.
In another bowl mix the dry ingredients: 1 cup of flour, a pinch of salt, ½ cup of sugar and ¼ cup of cocoa powder and integrate them well.
Add the dry ingredients to the wet ingredients in the mixing bowl and whisk together.
Pour the banana brownies batter into the prepared pan and spread evenly.
Cut in slices a ½ banana, and place the slices on top of your brownie.
Place the baking pan in the center of the preheated oven and bake for 20 minutes.
Then remove from the oven and when a toothpick inserted comes out clean your banana brownies are ready.
Cool completely before cutting and serving at room temperature this delicious and healthy brownie recipe.
Notes
*Cooking times can vary depending on your oven.
Nutrition Information
Yield

8
Serving Size

1
Amount Per Serving
Calories

273
Total Fat

15g
Saturated Fat

1g
Trans Fat

0g
Unsaturated Fat

13g
Cholesterol

0mg
Sodium

203mg
Carbohydrates

34g
Fiber

2g
Sugar

17g
Protein

2g
RELATED RECIPES
YOU MIGHT ALSO LIKE…
---
---