VEGAN WAFFLES RECIPE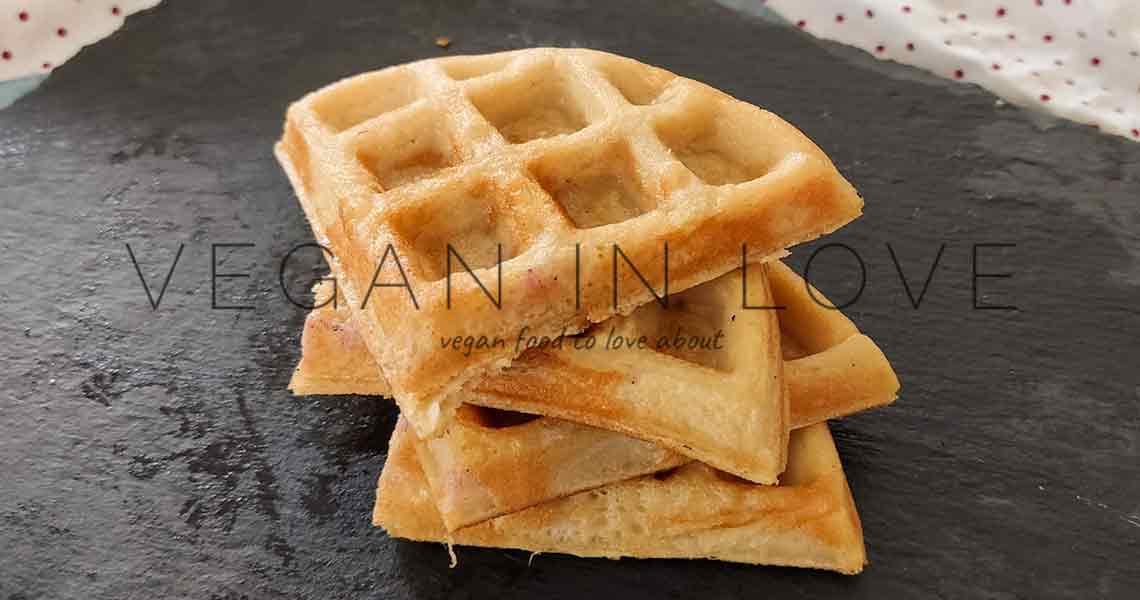 I love to eat homemade vegan waffles in the morning as a delicious vegan breakfast with a cup of tea. Furthermore, these vegan waffles recipe is full of taste and they will fill you up to start your day. Additionally, you can also enjoy this recipe not only as a delicious breakfast but also as a lovely dessert too.
I have tried a lot of different vegan waffle recipes before, but no doubt this one is the best vegan waffle recipe I tried. It's delicious and easy to make. What I really like about it is that you can use any type of flour you want. Furthermore, you can prepare it in less than 30 minutes. So, I thought this recipe will be just right for you to try too, if you want to make it eggless and dairy-free milk.
WAFFLES TOPPING IDEAS
These vegan waffles are the best you can get, they are a bit crispy on the outside while they are soft and fluffy on the inside, absolutely delicious, and easy to make. I love eating them with a bunch of tasty toppings; for example maple syrup, jam, or blueberries. Moreover, these vegan waffles are really versatile as you can enjoy them with a huge variety of delicious ingredients. Therefore, you can personalize them and try different ingredients and combinations; such as sauces, dried fruit, fresh fruit, and many more!
Additionally, these yummy ingredients will not only give a great flavor to your vegan waffles, but you can also use them to decorate them. So, this is a great way to be creative with your taste buds and your decoration skills. For more ingredient ideas to inspire you, check the list below.
FRESH FRUIT
Kiwis.
Pomegranate.
Peach.
Apricot.
Mango.
Banana.
Berries; such as strawberries, blackberries, and blueberries.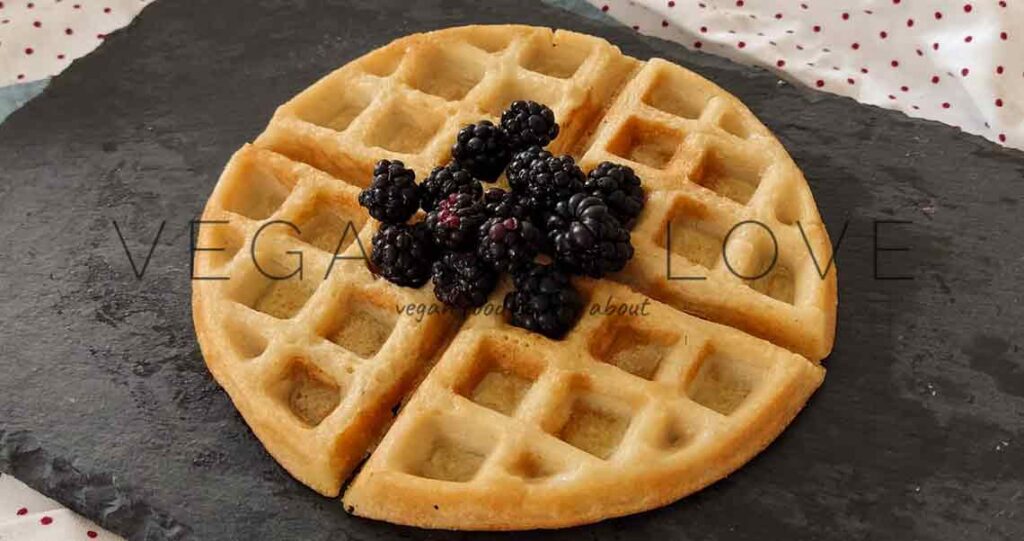 DRIED FRUIT
When using dried fruit with your waffles you can try them raw, roasted, salted, and caramelized. Furthermore, you can have them whole, sliced, and chopped.
Pistachios.
Hazelnut.
Almonds.
Walnuts.
Pecan.
SAUCES
Maple syrup.
Agave.
Jam; such as berry jams.
Melted dark chocolate.
OTHER
Biscuits or cookies.
Canned fruit.
Chocolate chips.
Seeds; such as pumpkin seeds and sunflower seeds.
WAFFLES TIPS:
Milk: for this waffle recipe I used oats milk, if you wish you can use other plant-based or non-dairy milk: such as soy milk, coconut milk, or almond milk. Moreover, if you prefer to replace this ingredient you can use water instead.
Oil: for the waffle batter I used vegetable oil; however, you can use sunflower oil, avocado oil, coconut oil, or the one that you prefer. For cooking the vegan waffles I used melted coconut oil, if you want to replace this ingredient to prepare these delicious waffles you have other options; such as melted vegan butter, margarine, or cooking spray.
Flour: this vegan waffle recipe was made with self-raising flour, you can replace this ingredient with all-purpose flour, whole wheat flour, or spelt flour. Moreover, if you want to make these waffles gluten-free, you can use oats flour and gluten-free flour. Lastly, add flour baking powder to the waffle batter.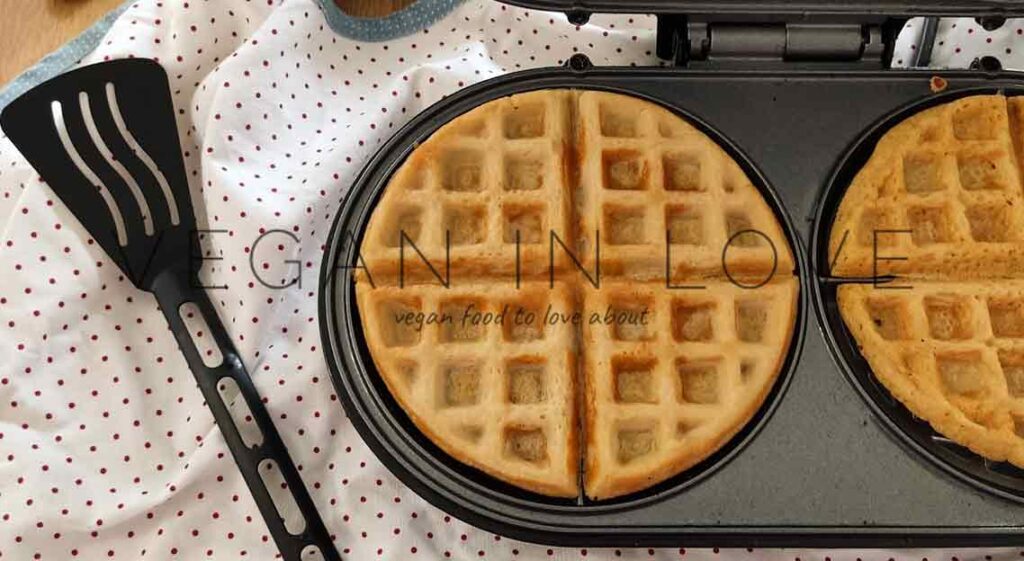 THIS RECIPE GOES WELL WITH: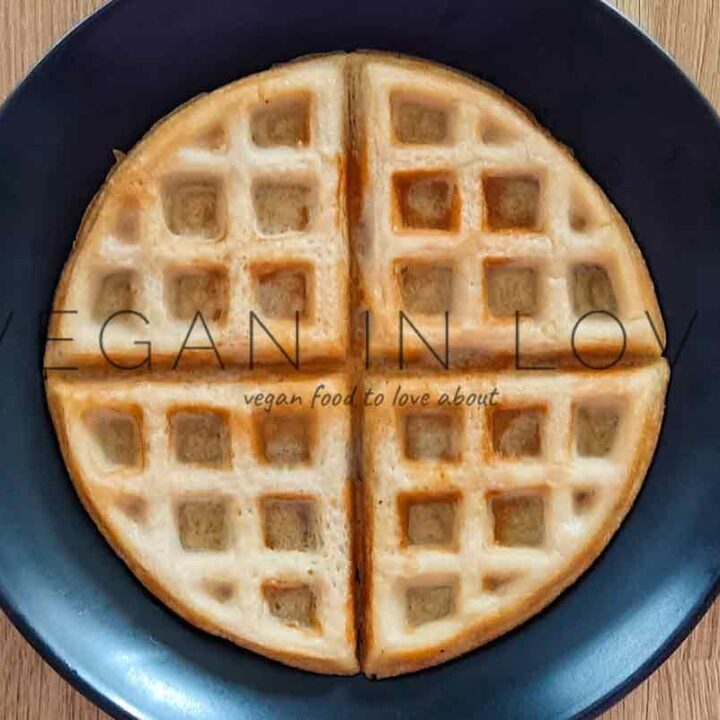 VEGAN WAFFLES RECIPE
Delicious, light and super easy to make this vegan waffles recipe. With just a few ingredients you can prepare this great recipe for breakfast or as a dessert.
Ingredients
Waffles
1 Cup of Self-raising flour.
2 Tbsp. of Sugar.
1 Pinch of Salt.
½ Tsp. of Baking powder.
1 ¼ Cup of Oats milk.
1 Tsp. of Vanilla extract.
2 Tbsp. of Vegetable oil.
Cooking
Instructions
In a large bowl sieve 1 cup of self-raising flour, and add 2 tbsp. of sugar, 1 pinch of salt, and ½ tsp. of baking powder. Mix well.
In another bowl, pour 1 ¼ cup of oats milk, 1 tsp. of vanilla extract and 2 tbsp. of vegetable oil of your choice. Mix well.
Pour the wet ingredients into the dry ingredients and mix the batter until you get a homogeneous consistency.
I used an electric waffle maker, heat it up, and wait until is ready. Then, with a cooking brush spread some coconut oil on both sides (top and bottom) from the waffle maker.
Pour your waffle batter until you cover the bottom part and close the waffle maker (always follow the manufacturer's instructions for better results).
Wait until they are done (in my case when a green light lights up) then open carefully.
You will get fluffy waffles if you want them a little bit more crispy on the outside let them cook for around 1 minute more.
Nutrition Information
Yield

4
Serving Size

1
Amount Per Serving
Calories

270
Total Fat

11g
Saturated Fat

3g
Trans Fat

0g
Unsaturated Fat

7g
Cholesterol

0mg
Sodium

531mg
Carbohydrates

39g
Fiber

1g
Sugar

12g
Protein

4g
The Nutritional values presented on this table are only estimates. The values can also vary depending on the cooking method, ingredients, product brands etc. This data was provided and calculated by Nutritionix.
YOU MIGHT ALSO LIKE…
---
---