CHICKPEAS ROASTED RECIPE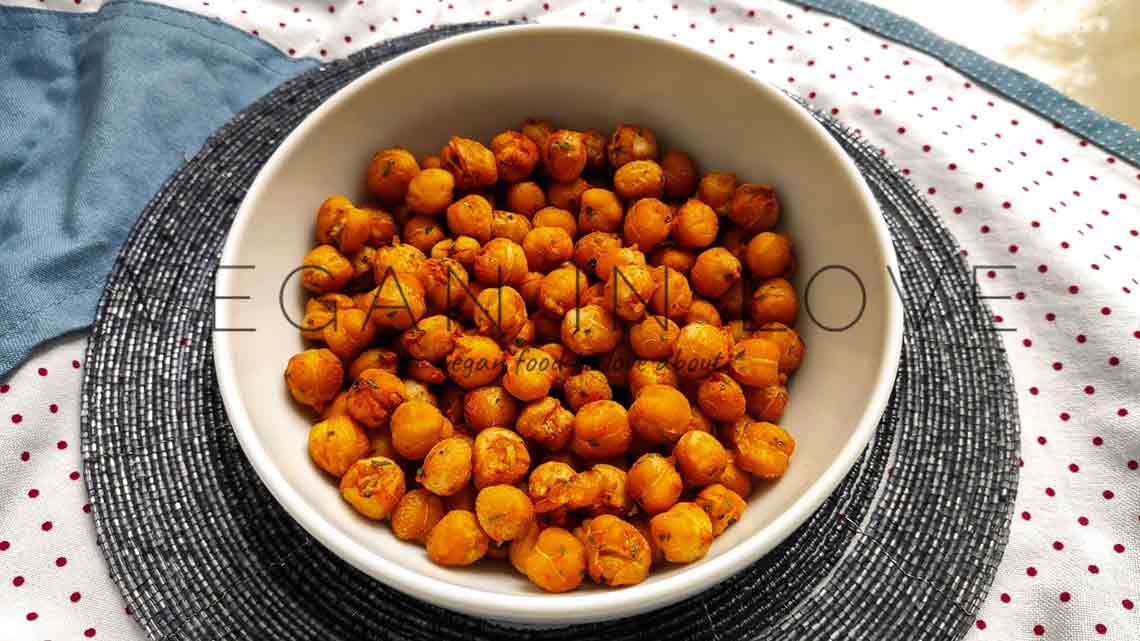 CHICKPEAS QUICK RECIPE
This recipe is designed to be as quick as possible and let the oven do the rest. In fact, that's why I used canned chickpeas to speed up the cooking time for this recipe; but, if you like to prepare the chickpeas from scratch you will need to soak the dried chickpeas in water (you can leave them overnight). Then, change the water and cook them for around 1 1/2 to 2hr or until they get soft and tender.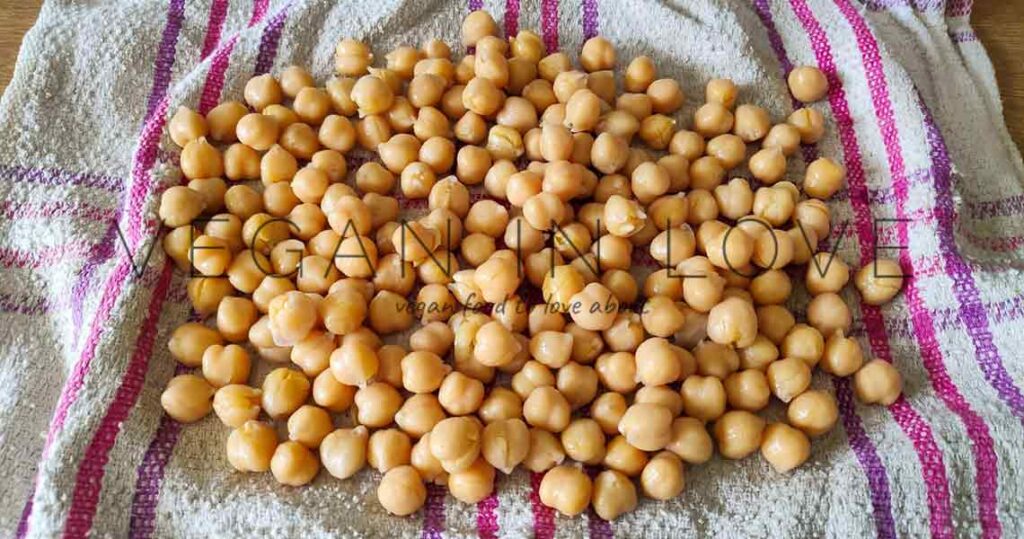 CHICKPEAS AS A GREAT AFFORDABLE SNACK
WHAT IS A GOOD VEGAN SNACK?
Actually, this recipe is a great snack for kids and adults. Moreover, it doesn't have any type of cooking oil, is high in protein, super easy to make, and is one of the best vegan snacks for traveling. What is more, you can store these roasted chickpeas in a container and enjoy this snack, for example on a picnic or on the go, plus it is a filling snack!
To begin with, season this delicious vegan snack with herbs and spices of your choice. For the purpose of this recipe, I used some classic ingredients; such as paprika, oregano, ground garlic, and salt.
Alternatively, I listed more yummy seasoning ideas to sprinkle to your roasted chickpeas:
Curry powder, such as masala.
Onion powder or ground.
Cinnamon.
Ground nutmeg.
Pepper: black pepper, white pepper, and cayenne pepper.
Chilli powder and chili flakes.
Turmeric.
Cumin.
Saffron.
Ginger powder.
Coriander.
Chives.
Dill.
Rosemary.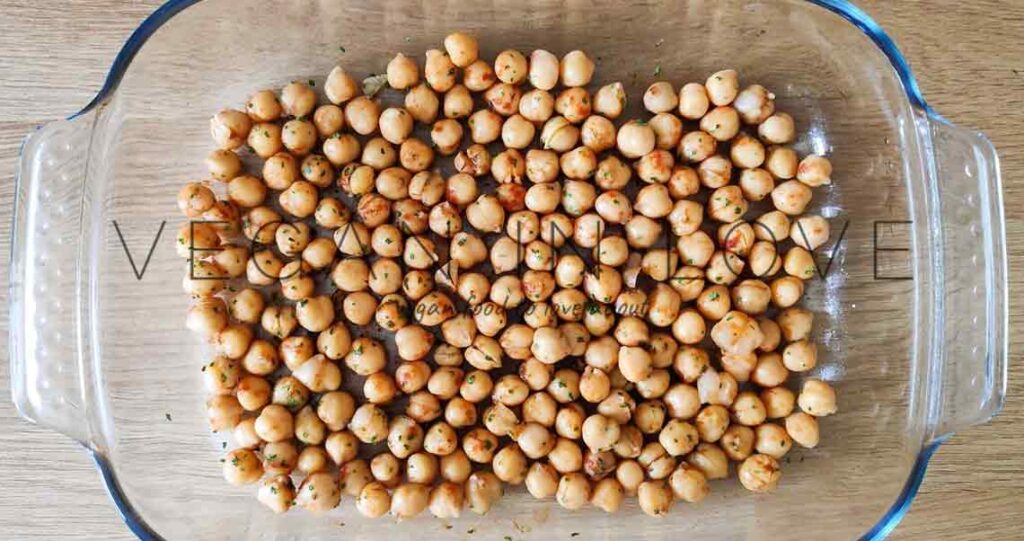 THIS RECIPE GOES WELL WITH:
Furthermore, you can add these chickpeas to a salad. In fact, you can use them to replace croutons, so try salads, such as Super green salad.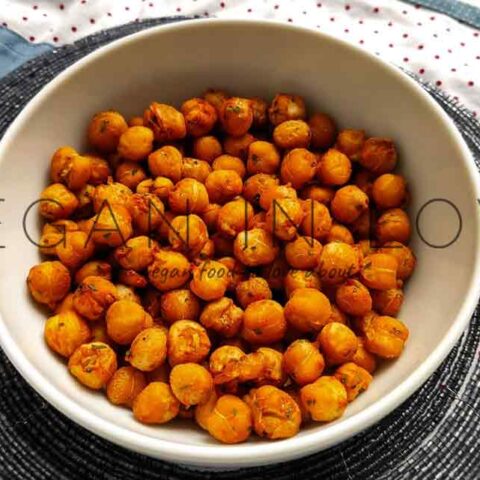 Roasted chickpeas
Looking for a vegan snack high in protein? Search no more! This recipe for roasted chickpeas is super simple and easy to make. Enjoy this recipe with family and friends with this great vegan snack for a party too!
Ingredients
1 Tin/can of Chickpeas.
1 Tbsp. of Maple syrup*.
1 Tsp. of Paprika.
1 Tsp. of Dried parsley.
1 Tsp. of Dried oregano.
1 Tsp. of Ground garlic.
1 Pinch of Himalayan salt or sea salt.
Instructions
Preheat the oven to 180 °C degrees (356 °F approx.).
Drain the water from the canned chickpeas**, rinse them well and dry them with a kitchen cloth or kitchen tissue (roll).
Place them in a glass ovenware dish. Season to taste with: maple syrup, paprika, dried parsley, dried oregano, garlic powder, and salt. Mix them well.
Place the dish in the center of the oven and cook for around 35 minutes.
Remove from oven, let them cool, and serve in a small bowl.
Notes
* You can replace this with Olive oil or cooking oil of your choice.
**You can keep the water (aquafaba) in a container and place it in the fridge. This aquafaba can be used to prepare other recipes.
Cooking times can vary, also you can cook them longer if you want them more crunchy.
Nutrition Information
Yield

2
Serving Size

1
Amount Per Serving
Calories

168
Total Fat

2g
Saturated Fat

0g
Trans Fat

0g
Unsaturated Fat

2g
Cholesterol

0mg
Sodium

348mg
Carbohydrates

31g
Fiber

7g
Sugar

10g
Protein

8g
The Nutritional values presented on this table are only estimates. The values can also vary depending on the cooking method, ingredients, product brands etc. This data was provided and calculated by Nutritionix.
YOU MIGHT ALSO LIKE…
---
---