VEGAN PANNA COTTA RECIPE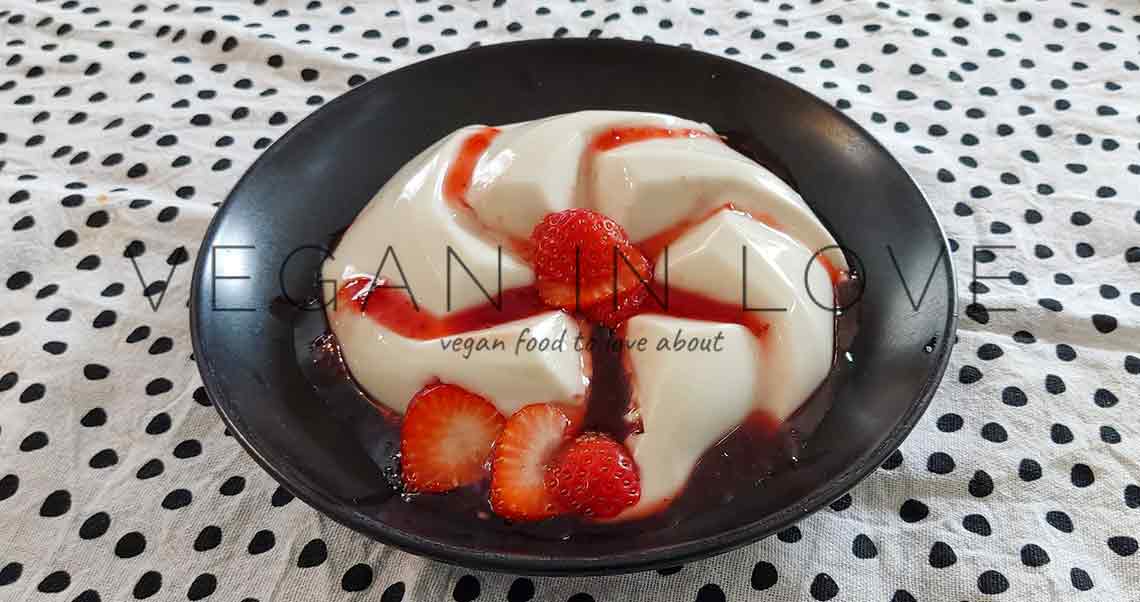 Traditional panna cotta base is made of gelatine and dairy products; such as whole milk and heavy cream. However, you can make this creamy dessert using alternative options to replace the ingredients from the traditional Italian dessert.
HOW TO MAKE VEGAN PANNA COTTA?
Making vegan panna cotta dessert is easier than you may think, so you don't have to be an expert cook to make this recipe today. For this vegan panna cotta, you will need just a few ingredients such as coconut milk, oat milk, and agar-agar powder (or agar-agar flakes).
In addition to this to sweeten this vegan panna cotta I used sugar; however, you can replace this ingredient with other options.
Maple syrup.
Coconut sugar.
Demerara sugar.
Agave.
Cane sugar.
Brown sugar.
Caster sugar.
Although the full-fat coconut milk gives a lovely coconut flavor to this vegan panna cotta, I also used vanilla extract in this recipe. Also, you can use vanilla bean or vanilla pod.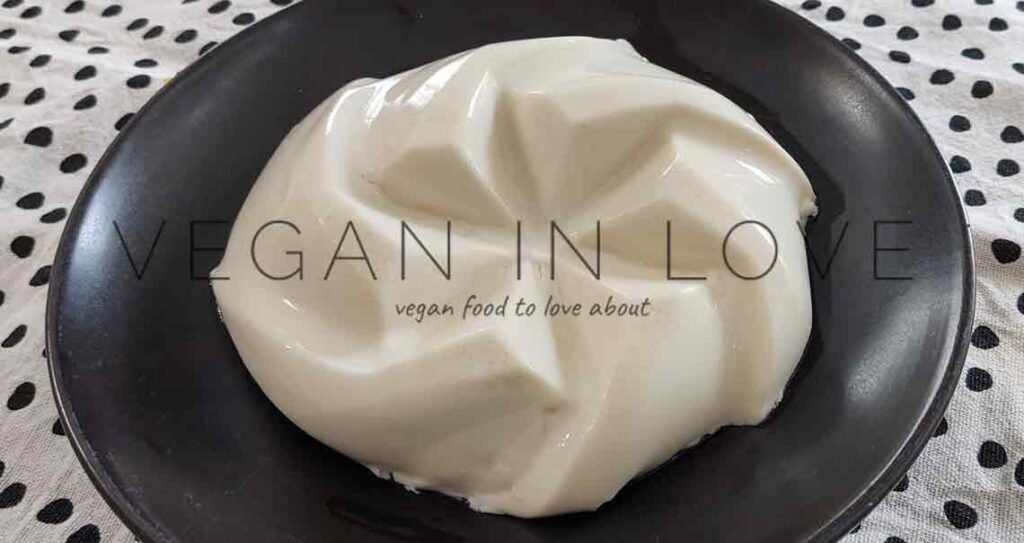 WHAT KIND OF DAIRY-FREE MILK CAN YOU USE?
If you are vegan, cannot, or don't eat dairy products and you are missing enjoying this classic Italian dessert traditionally made with Cow milk, no worries this is a versatile dessert that you can also make with plant milk. Here you can find plant-based milk options that you can use for this recipe.
Coconut milk.
Oat milk.
Soy milk.
Unsweetened almond milk.
Cashew milk.
Coconut cream.
Soy cream.
FOR THE TOPPING
Although you can use a chocolate sauce for this vegan panna cotta dessert, you have other options too. Furthermore, you can use frozen fruit; such as frozen berries. Also, you can use fresh fruit; for example fresh berries, fresh raspberries, and why not you can use mixed berries.
TOP 3 PANNA COTTA FLAVORS
Indeed berry sauce is a classic flavor to have a deliciously creamy vegan panna cotta. So, I decided to make an easy strawberry sauce from strawberry jam. Moreover, if you love strawberries like me you can also make a strawberry coulis too. However, if you want to try other delicious flavors check out these top 3 panna cotta flavors.
Raspberry sauce.
Chocolate sauce.
Mango sauce.
CAN YOU USE OTHER FRUITS FOR THE SAUCE?
Absolutely! This dessert is like a blank canvas that you can have with other fruit sauces or even marmalade that you already have at home. Moreover, you can also make other fruit sauces with not one type of fruit but a selection of the ones you like or have at home. In addition to this, you can not only use frozen fruit, but also you can use fresh fruit that is in the season when making this lovely recipe.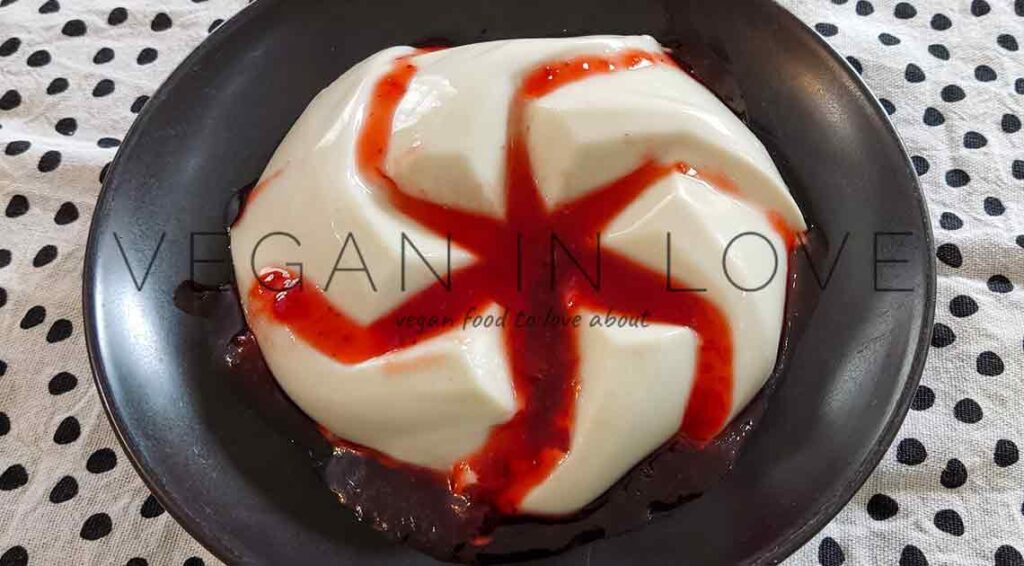 THIS VEGAN PANNA COTTA GOES WELL WITH THE FOLLOWING: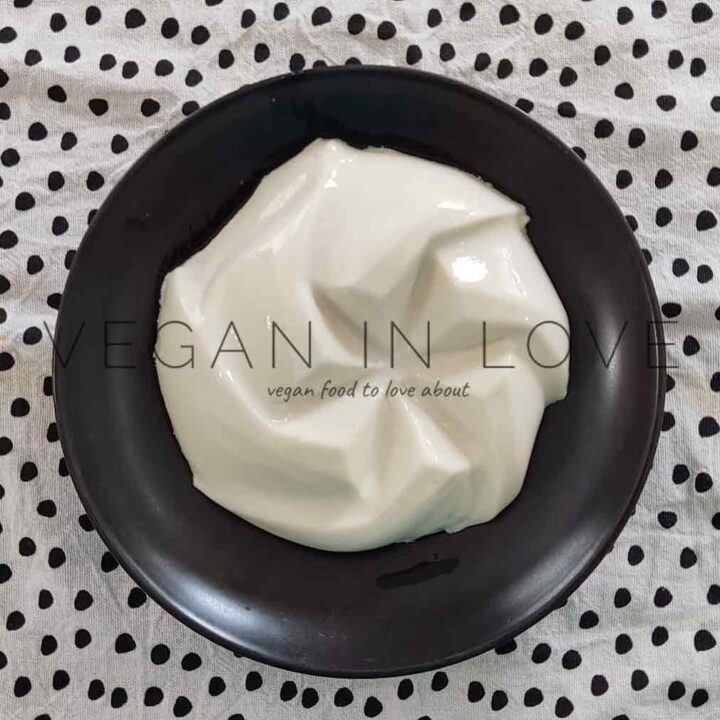 VEGAN PANNA COTTA
Delicious creamy vegan panna cotta recipe made of plant-based milk. Enjoy this dairy, gluten, and egg-free dessert with any fruits or sauces of your choice.
Ingredients
panna cotta
1 Can of full fat coconut milk.
100 ml. of Oats milk.
1 Tbsp. of Vanilla extract.
3 Tbsp. of Sugar.
2 Tsp. of Agar agar powder.
Topping
5 Tbsp. of Strawberry jam.
20 ml. of Water.
5 Fresh strawberries.
Instructions
VEGAN PANNA COTTA
Pour the full-fat coconut milk and oat milk into a small saucepan at medium heat.
Add the sugar, vanilla extract, and the agar agar powder* and stir well.
Bring to boil stirring occasionally.
Cook for around 2 minutes and remove the small saucepan from the heat.
Let the hot liquid cool down at room temperature.
Then, pour the vegan panna cotta into silicone molds. Use a rubber spatula.
Place the vegan panna cotta in the fridge and let it cool for 2 to 3 hr.
STRAWBERRY TOPPING
Pour the strawberry jam and the water into a small saucepan at medium heat.
Stir well, and keep stirring until you get a strawberry sauce consistency.
ASSEMBLE
Serve the panna cotta on a dessert dish.
Then, pour the strawberry jam and some fresh strawberries on the side.
Notes
*Always check the agar agar powder instructions in the package or the vegan gelatine you use.
Nutrition Information
Yield

5
Serving Size

1
Amount Per Serving
Calories

265
Total Fat

17g
Saturated Fat

15g
Trans Fat

0g
Unsaturated Fat

1g
Cholesterol

0mg
Sodium

18mg
Carbohydrates

28g
Fiber

1g
Sugar

20g
Protein

2g
The Nutritional values presented on this table are only estimates. The values can also vary depending on the cooking method, ingredients, product brands etc. This data was provided and calculated by Nutritionix.
MORE EASY, NO-BAKE DESSERTS
YOU MIGHT ALSO LIKE…
---
---