VEGAN MUSHROOM BOURGUIGNON WITH POTATO CAULIFLOWER MASH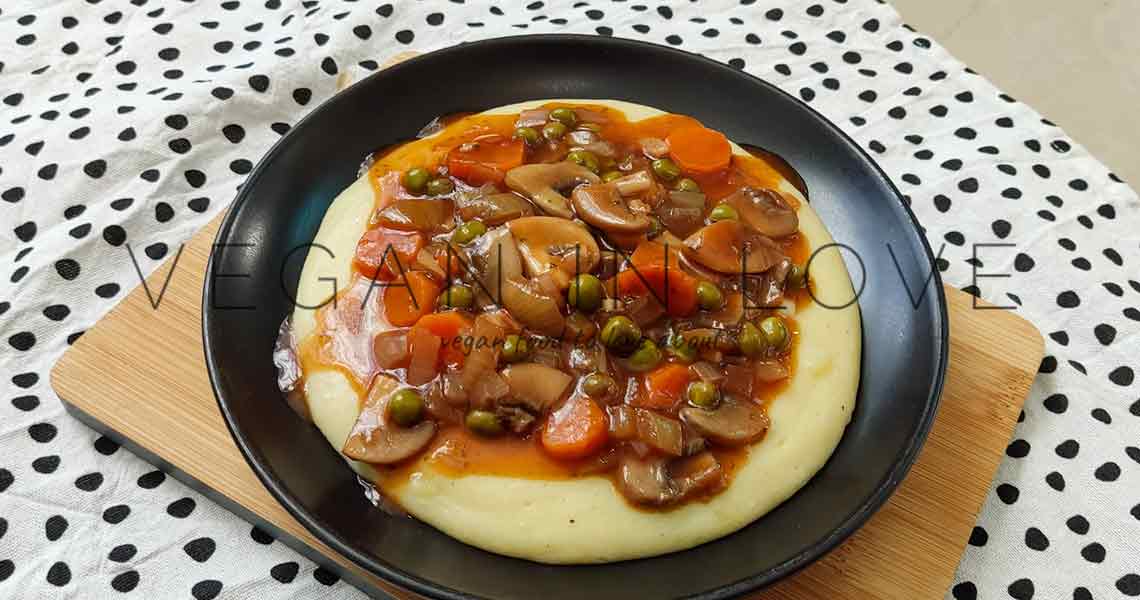 Bourguignon is a French recipe traditionally made with beef and it's called Beef bourguignon or boeuf bourguignon. However, in order to make this recipe vegan I replaced the red meat (beef) with mushrooms. They are a great alternative to meat thanks to their flavor and texture. Furthermore, you can use a great variety of mushrooms for this recipe and you can combine them too; such as cremini, Portobello mushrooms cap, porcini, shitake, or even canned cooked mushrooms.
In fact, this delicious and comforting vegan mushroom bourguignon with potato cauliflower mash is great for vegan cooking. This warm and filling recipe is ideal for a main dish at Christmas dinner, Thanksgiving, or a lovely Sunday meal. Furthermore, this recipe proves that you can make a plant-based meal full of flavor, nutritious and healthy too.
SEASONING FOR BOURGUIGNON
One of the main seasoning ingredients for this recipe is fresh thyme; however, I'm not a big fan of this herb and I use it from time to time. Therefore, is not included in this recipe but I added it to the following seasoning list. This is because, as I did when I replaced the meat, you can adjust the seasoning to your liking.
Fresh herbs; such as fresh thyme, fresh parsley, and chopped chives.
Black pepper/white pepper (freshly ground).
Smoked paprika.
Onion powder.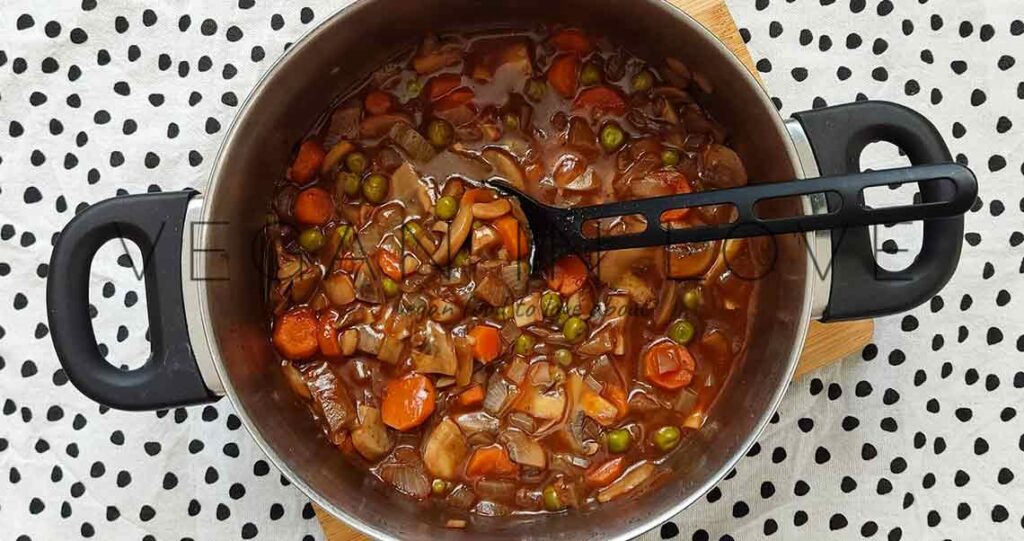 MORE INGREDIENTS FOR BOURGUIGNON
This is a really popular meal in our home and I love cooking great mushrooms. Additionally, you can add other healthy and nutritious vegetables when making this recipe; for example, you can add spinach.
Baby kale.
Onions; such as shallots, pearl onions, green onions/spring onions, etc.
Root vegetables; for example parsnip, Chantenay carrots, and potatoes.
Leek.
Peppers: red, yellow, or green.
Eggplant/aubergine.
Cooked lentils.
Cooked beans; such as garbanzos, cooked white beans, canned beans, etc.
WHAT TO SERVE VEGAN BOURGUIGNON WITH?
Although I served this hearty vegan recipe with potato cauliflower mash, you can also make this recipe with other delicious options. If you want more ideas on what to do with this dish, check out some of the options listed here.
Rice: white rice, cauliflower rice, brown rice, wild rice, basmati rice, jasmine rice, etc.
Vegetable mash: sweet potato, pumpkin, butternut squash, and champ.
Pasta: semolina, gluten-free pasta, garbanzo beans pasta, green peas pasta, etc.
Others: polenta.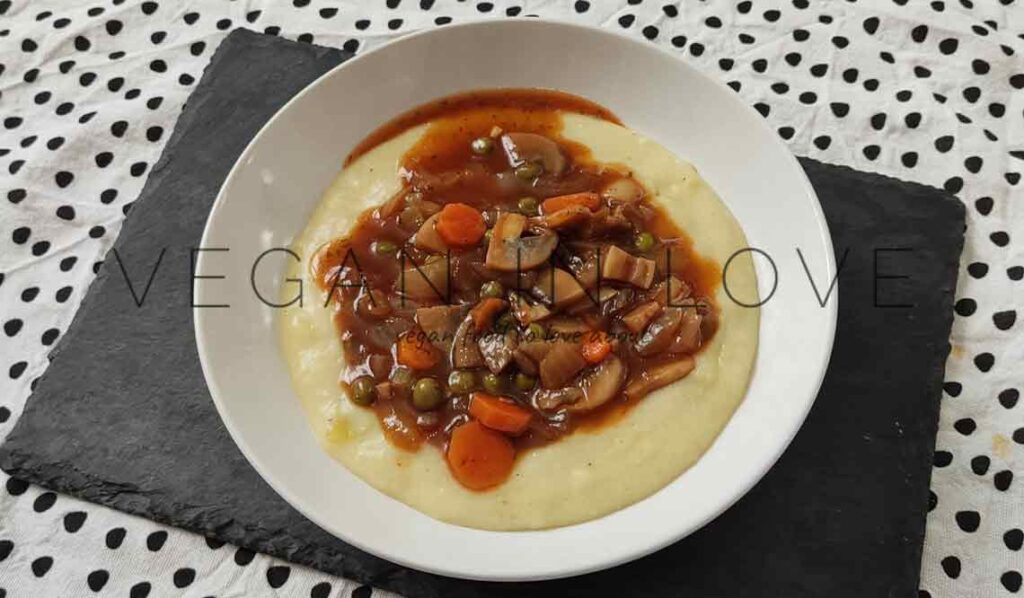 THIS RECIPE GOES WELL WITH: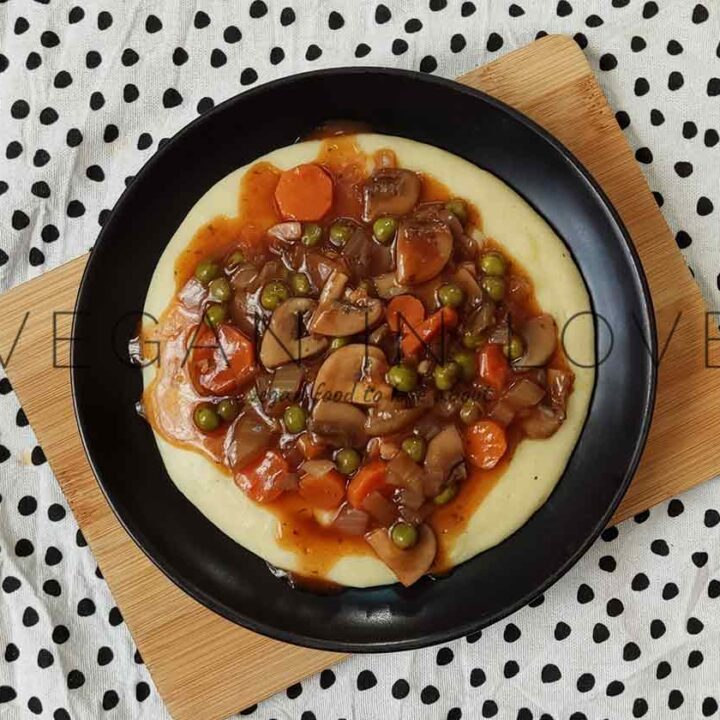 VEGAN MUSHROOM BOURGUIGNON WITH POTATO CAULIFLOR MASH
Warm, filling, and comforting vegan mushroom bourguignon with potato cauliflower mash made of delicious and healthy ingredients. Enjoy this hearty meal today!
Ingredients
vegan mushroom bourguignon
2 Yellow onions.
100 gr. of Carrots.
2 Tbsp. of Olive oil.
2 Garlic cloves.
80 gr. of Frozen peas.
150 gr. of Mushrooms.
50 ml. of Vegan red wine*.
1 Tsp. of Soy sauce**.
1 Tbsp. of Tomato paste.
200 ml. of Vegetable broth.
2 Tsp. of Cornstarch.
2 Tbsp. of Water.
1 Tsp. of Paprika.
1 Tsp. of Parsley.
½ Tsp. of Garlic powder.
½ Tsp. of Himalayan salts.
potato cauliflower mash
350 gr. of Cauliflower.
550 gr. of Potatoes.
1 Tbsp. of Vegan butter.
80 ml. of Canned coconut milk (non dairy milk).
½ Tsp. of Ground nutmeg.
½ Tsp. of Himalayan salt.
Instructions
VEGAN MUSHROOM BOURGUIGNON
Peel and dice the onions and the carrots. Cook them with 2 tbsp. of olive oil in a preheated pot at medium heat (if you want to make this recipe oil-free replace the olive oil with vegetable stock).
Peel and dice the garlic cloves and add them to the pot. Stir well.
Then, add 80 gr. of frozen peas and 150 gr of diced mushrooms.
Pour 50 ml. of Vegan red wine*, 1 Tsp. of soy sauce**, 1 tbsp. of tomato paste, and 200 ml. of vegetable broth. Stir well and then keep stirring occasionally.
In a small bowl add 2 tsp. of corn-starch, 2 tbsp. of water, and mix well. Pour the cornstarch mixture into the pot, bring to a boil to thicken, and stir well.
If you want a more fluid consistency of your vegan mushroom bourguignon, then add more vegetable stock you can adapt this depending on the preferred consistency you want to get.
Season to taste with: paprika, parsley, garlic powder, and Himalayan salts. Stir well and adjust the seasoning if necessary.
Cook your vegan mushroom bourguignon until you get a rich mushroom mixture and the vegetables are cooked.
POTATO CAULIFLOWER MASH
Peel and cut the potatoes into cubes. Then clean and remove any cauliflower leaves and cut them into cubes too.
Place the cubed potato and the cubed cauliflower in a steamer basket. Steam them for around 25 minutes. If you want to speed up this you can also use a pressure cooker. Bear in mind that pressure cook time should be less than steaming the potatoes and cauliflower. Make sure you follow the instructions for the pressure cooking you are using.
Once the potatoes and cauliflower are soft and tender transfer the steamed potato and cauliflower to a bowl and coarsely mash them and make a mash roughly.
Add the non-dairy milk and keep mixing until you get a mashed potato mixture.
Season to taste with salt and ground nutmeg.
ASSEMBLE
Serve this delicious recipe warm on a plate. First, add the potato cauliflower mash and then pour the vegan mushroom bourguignon. If you wish you can place the potato cauliflower mash layered.
Notes
*Not all red wines are vegan, make sure you check the label.
**For Gluten-free options, always remember to check the label.
I you don't have cornstarch you can also use arrowroot starch mixed with water.
Nutrition Information
Yield

4
Serving Size

1
Amount Per Serving
Calories

354
Total Fat

15g
Saturated Fat

5g
Trans Fat

1g
Unsaturated Fat

9g
Cholesterol

0mg
Sodium

665mg
Carbohydrates

49g
Fiber

9g
Sugar

9g
Protein

9g
The Nutritional values presented on this table are only estimates. The values can also vary depending on the cooking method, ingredients, product brands etc. This data was provided and calculated by Nutritionix.
MORE RECIPES WITH MUSHROOMS
YOU MIGHT ALSO LIKE…
---
---