SAUSAGE AND MASH PIE RECIPE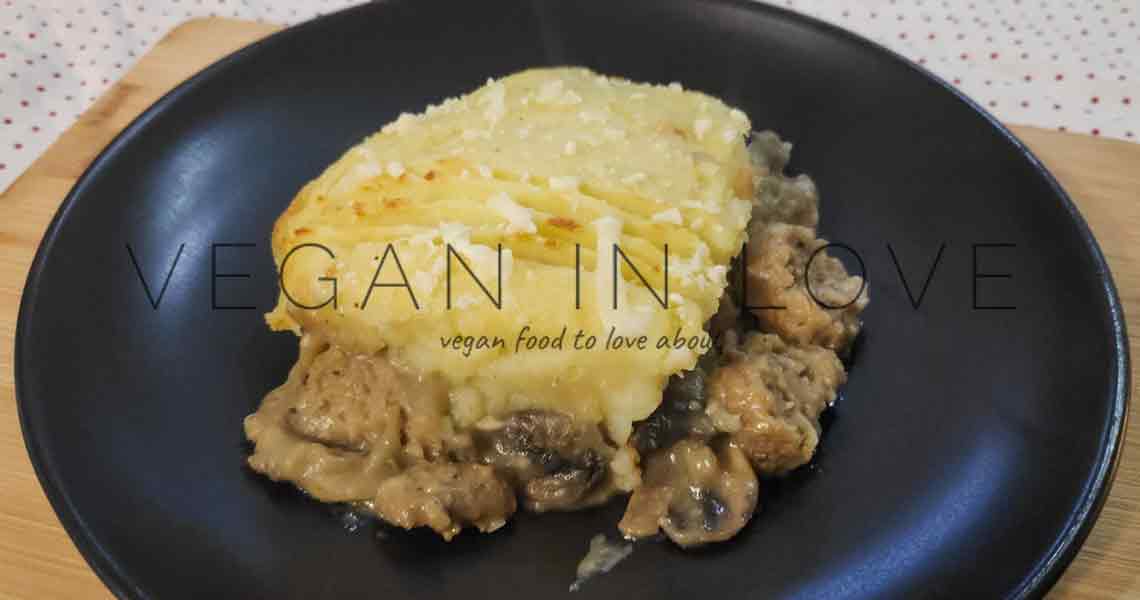 SAUSAGE PIE FILLING IDEAS
For this recipe I prepare this dish with vegan sausage, you can also use any other vegan meat alternatives. On the other hand, if you prefer not to use or reduce the amount to process vegan food, you can add more mushrooms and include other varieties. Furthermore, check some alternatives down below.
Vegan meatballs.
Vegan burgers.
Lentils of your choice.
Other mushroom ideas, for example, portobello, porcini, and king oyster.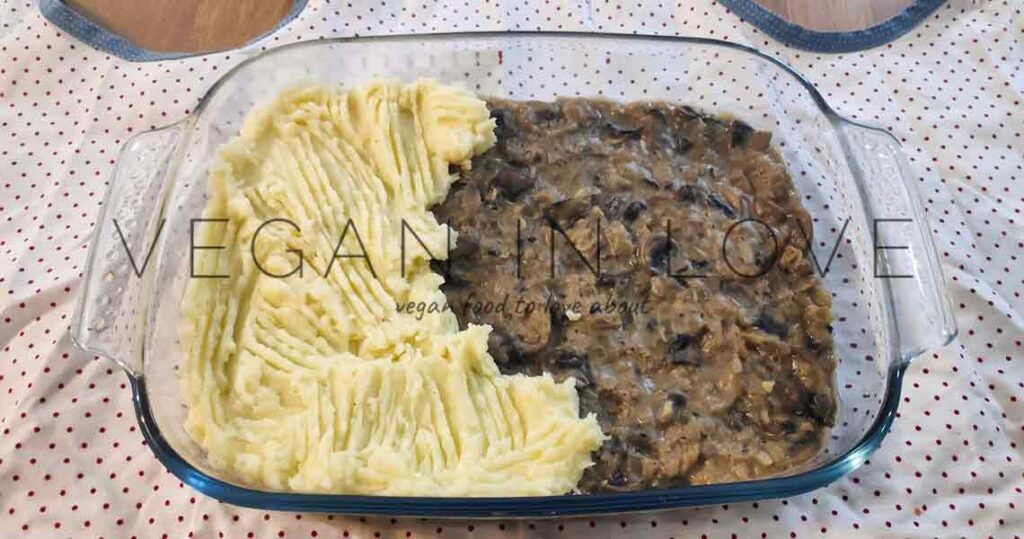 SAUSAGE PIE TOPPINGS IDEAS
In addition to the yummy ingredients used in this recipe, you can swap some of them or add more! For example, for the mash, you can use sweet potatoes together with the potatoes. Also, you can add t cauliflower to the mashed potatoes.
MASH IDEAS
Sweet potatoes.
Butternut squash.
Pumpkin.
Or a mix, such as potatoes & butternut squash.
MASH SEASONING
Nutritional yeast.
Mustard.
Coconut milk or coconut cream.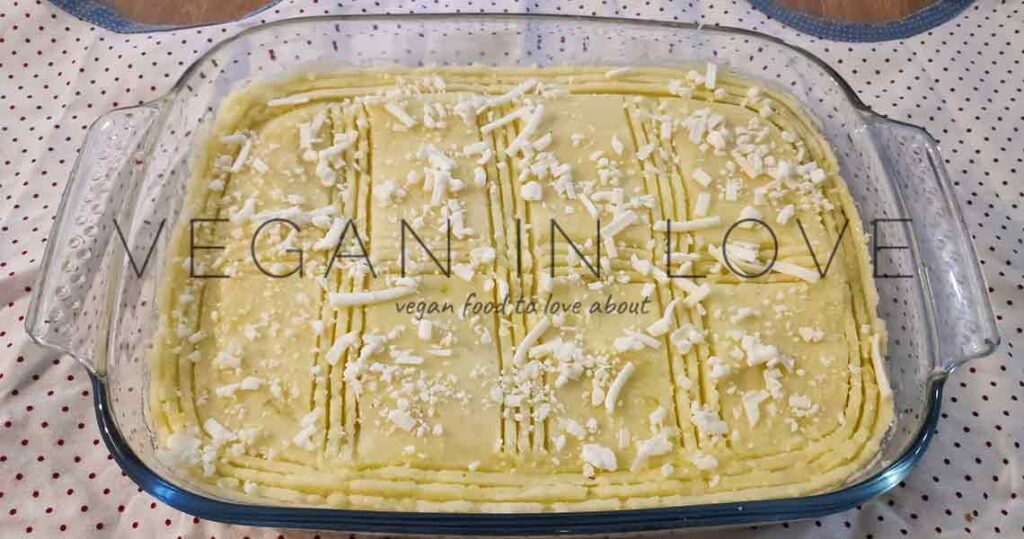 THIS RECIPE GOES WELL WITH: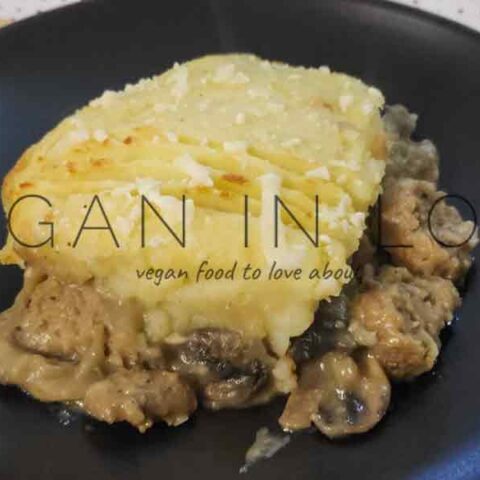 Sausage pie with mash
Total Time:
1 hour
10 minutes
Super warm and cozy sausage pie with mash potatoes. This is a great recipe to prepare with sausages and mushrooms in a creamy béchamel sauce.
Ingredients
Mashed potatoes
700 gr. of Potatoes.
150 ml. of Plant-based milk.
1 Tbsp. of vegan butter or olive oil (optional).
1 Pinch of Himalayan or sea salt.
1 Pinch of Garlic powder.
Filling
2 Onions.
2 Garlic cloves.
2 Tbsp. of Water.
6 Vegan sausages.
200 gr. of White mushrooms.
3 Tbsp. of Olive oil.
3 Tbsp. of Flour or corn starch.
300 ml. of Plant-based milk.
1 Tbsp. of Soy sauce.
1 Pinch of Himalayan or sea salt.
1 Pinch of Ground nutmeg.
Assemble
2 Tbsp. of Olive oil.
30 gr. of Grated vegan cheese.
Instructions
Mashed potatoes
Wash, peel and cut the potatoes.
Cook them in a steamer for around 20 to 25 minutes or until they are soft to prepare a mash. You can also boil them too (cooking times can vary).
Once the potatoes are ready, drain any excess water and place them in a bowl. Then, begin to mash the potatoes until you get a smooth consistency.
Season to taste with garlic powder and salt. Additionally, you can use vegan butter or olive oil.
Filling
Peel and dice the onions and garlic cloves. Cook them in a frying pan with salt and water.
Slice the vegan sausages and add them to the pan. Stir well and cook for around 5 minutes.
Clean and cut the mushrooms and add to the pan.
Once all the ingredients are cooked to taste, add 3 tbsp of oil and 3 tbsp of flour (or cornstarch for a gluten-free option). Mix well and pour little by little 300 ml. of milk.
Stir until you get a thicker consistency, then season with: soy sauce, salt, and nutmeg.
Assemble
Pre-heat the oven to 180 °C degrees (356 °F approx.).
Place the filling in an oven tray and spread evenly.
Then, add on top the mashed potatoes. Spread well and with a fork, you can draw some lines.
You can also spread some olive oil or vegan cheese. For this recipe, I only use a sprinkle of vegan mozzarella.
Gratin
Gratin in the oven for around 25 minutes.
Nutrition Information
Yield

6
Serving Size

1
Amount Per Serving
Calories

552
Total Fat

37g
Saturated Fat

10g
Trans Fat

1g
Unsaturated Fat

24g
Cholesterol

48mg
Sodium

838mg
Carbohydrates

40g
Fiber

4g
Sugar

9g
Protein

16g
The Nutritional values presented on this table are only estimates. The values can also vary depending on the cooking method, ingredients, product brands etc. This data was provided and calculated by Nutritionix.
RELATED RECIPES
Furthermore, if you like Vegan Shepherd's pie recipes, you can find here more recipes:
YOU MIGHT ALSO LIKE…
---
---