LENTIL STEW WITH BROWN RICE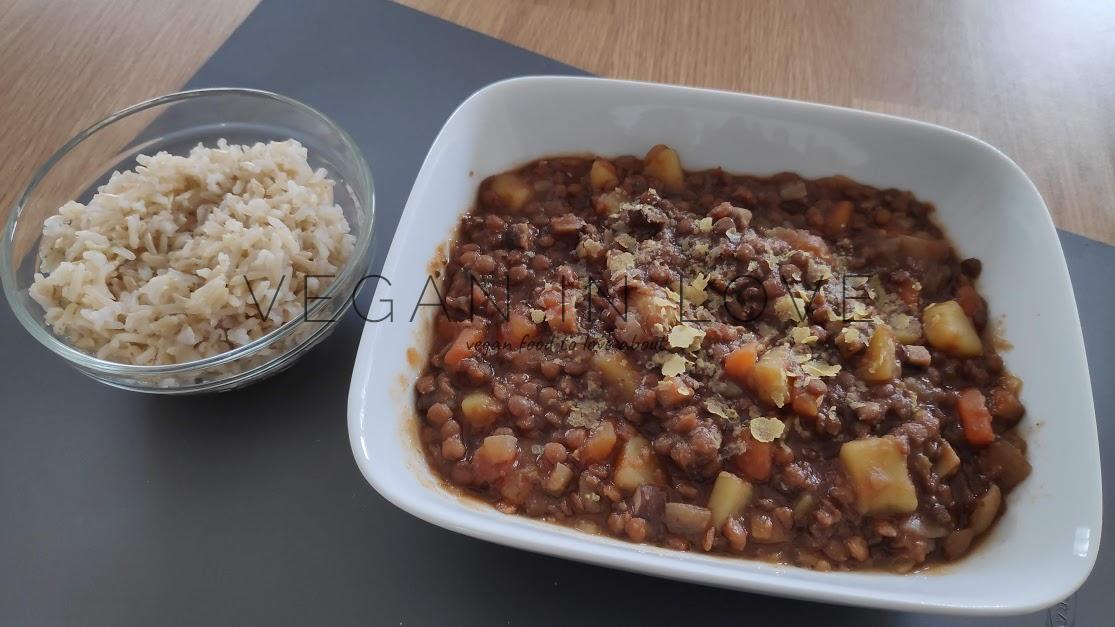 THIS RECIPE GOES WELL WITH: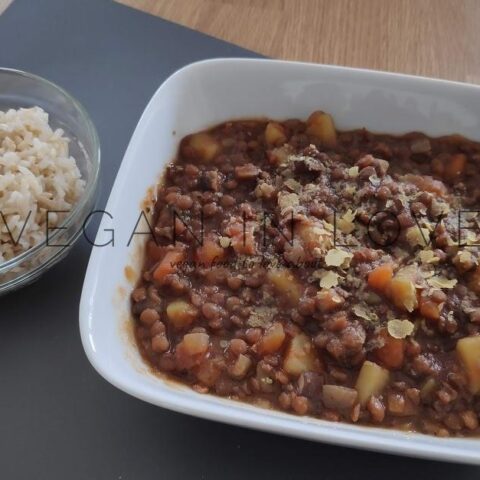 Lentil stew with brown rice
Total Time:
1 hour
20 minutes
This vegan lentil stew recipe is full of flavors, is warm and hearty. Enjoy this comfortable vegan stew with loads of vegetables and brown rice for cold-winter days.
Ingredients
Rice
130 gr. Brown rice (before cooking).
260 ml. of Water.
Lentil Stew
2 Big white onions.
1 Big carrot.
2 Big potatoes.
100 gr. of Mushrooms.
150 gr Brown lentils (before cooking).
4 Tbsp. of Tomato puree.
3 Tbsp. of Water.
100 ml. of Water.
¼ Tsp. of Sodium bicarbonate.
1 Tbsp. of Red wine.
1 Bay leaf.
1 Pinch of Himalayan salt.
½ Tsp. of Garlic powder.
½ Tsp. of Smoke paprika.
½ Tsp. of Dried parsley.
½ Tsp. of Oregano.
Assemble
1 Tbsp. of Nutritional yeast.
Instructions
RICE
Wash the Basmati rice under running cold water until water runs clear. Also, you can rinse the rice around 3 or 4 times. Soak the rice for around 20 minutes or more (if you have time to spare or prepare this part in advance, the longer you soak the rice the better).
After 20 minutes, cook the rice with 2 cups of water.
LENTIL STEW
Peel and dice the onions. Cook them in a pan with a lid. Add some salt and around 3 tablespoons of water for cooking (add more water if necessary).
Peel (optional) and dice the carrot and the potatoes. Cook them in a steamer for approx. 15 minutes.
Cook the lentils in a pan with water for around 15 minutes. Do not worry if they are not fully cooked, as they will continue cooking with the sauce and the rest of the ingredients later (the same applies to the carrot and potatoes).
Clean the mushrooms and diced them. Add them to the onions and stir well from time to time.
Once the onions start to soften, add the tomato puree, 100 ml of water, and mix well.
Add 1/4 teaspoon of Sodium bicarbonate and mix well.
When the bubbles are gone add 1 tablespoon of red wine and stir well.
Add garlic powder, Himalayan salt, smoked paprika, parsley, a pinch of oregano, and the bay leaf.
Stir well and cook for 5 minutes, then add the carrots, potatoes, and lentils (including the remaining water where you cooked the lentils) and let them cook all together for around 20 minutes or until you notice that the veggies and lentils are well cooked.
ASSEMBLE
For serving, you can mix the rice with the stew o have it on aside.
Sprinkle nutritional yeast to taste.
Notes
I don't use oil to cook the onions, if you prefer you can replace the 3 tablespoons of water with the cooking oil of your choice.
Please note that some of the ingredients will be cooked at the same time, but in different pots or using the steamer.
Nutrition Information
Yield

3
Serving Size

1
Amount Per Serving
Calories

281
Total Fat

1g
Saturated Fat

0g
Trans Fat

0g
Unsaturated Fat

1g
Cholesterol

0mg
Sodium

71mg
Carbohydrates

58g
Fiber

11g
Sugar

8g
Protein

12g
The Nutritional values presented on this table are only estimates. The values can also vary depending on the cooking method, ingredients, product brands etc. This data was provided and calculated by Nutritionix.
RELATED RECIPE
YOU MIGHT ALSO LIKE…
---
---