UPSIDE DOWN CAKE APPLE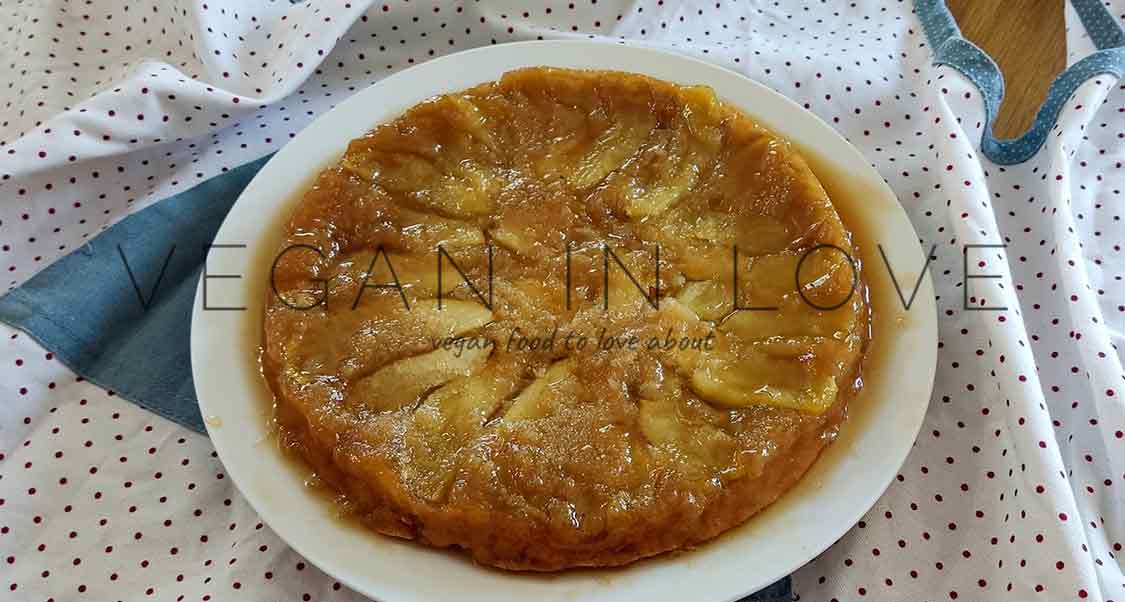 Delicious apple upside-down cake made with fresh apples. Ideally, serve warm for not only a perfect dessert but also you can enjoy this recipe in the morning or afternoon with a cup of tea or coffee. Furthermore, you can serve this eggless cake with a vegan vanilla ice cream or vegan whipped cream for a great topping too. In order to prepare this recipe, I used gala apples, but you can choose the apple you prefer; for example, you can use granny smith.
CAKE FLAVORING IDEAS
Although this cake has a great taste thanks to the apple and caramel combination on top, you can always add more flavors to this cake batter. For this apple upside-down cake I only used the vanilla extract (you can use vanilla bean too) as it goes nicely with the apple caramel. Alternatively, there are other seasoning ingredient options that go really well with this cake batter.
Ground cinnamon.
Ground nutmeg.
Fresh zest, such as lemon, lime, or orange.
Agave.
Maple syrup.
Moreover, I used demerara sugar to prepare the cake batter; however, you can try other types of sugar: such as brown sugar, granulated sugar, or other sweeter of your choice.
Another ingredient that might also change the flavor of this cake batter is the oil ingredient if you like you can replace the oil used in this recipe with butter, which can be salted butter or unsalted butter. This would depend on your personal preferences. Bear in mind that in this case is advisable to prepare the wet ingredients with melted butter.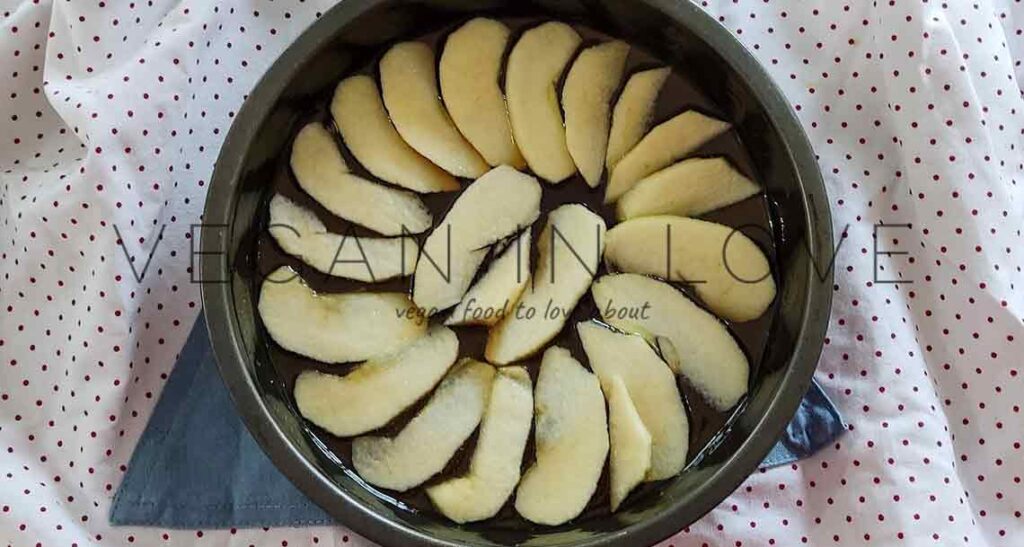 CAKE ADDITIONAL INGREDIENTS IDEAS
To prepare this recipe I used gala apple slices as the main fruit; however, if you don't like, don't have, or might be allergic to apples you can replace them with other fruits and you can still have a delicious cake too; for example pineapple upside-down cake recipe.
Pears.
Apricot.
Peach.
Rhubarb.
Raisins.
Dried prunes.
Dates.
UPSIDE DOWN CAKE TIPS:
Apple sauce: traditionally this recipe contains egg; however, to replace this ingredient for a vegan version I used apple sauce. If you don't have apple sauce, you can use apple marmalade/jam or grated apple. Also, you can use apple compote.
Cooking: I cooked the first 20 minutes in the center of the oven and the rest on the top shelf.
Removing the cake: Be careful when removing this cake as the caramel will be really hot and might drip when removing the cake. Place a plate on top of the baking tray, grab the baking tray and plate with a table cloth. Flip the baking tray and plate together and place it on a worktop and carefully remove the baking tray. Some apple slices might get stuck with the caramel just remove them with a fork or a knife and place them again on your cake.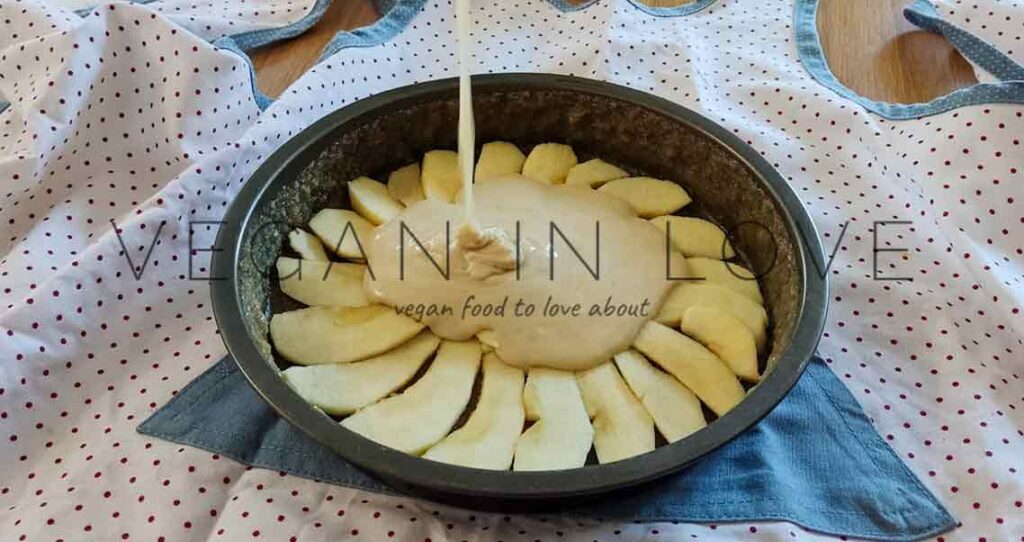 THIS RECIPE GOES WELL WITH: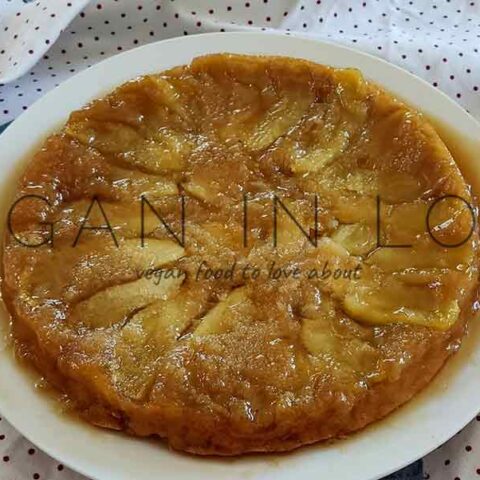 APPLE UPSIDE DOWN CAKE
Delicious and made with easy-to-find ingredients this vegan cake is not only great as a dessert but also for breakfast with lovely a cup of tea or coffee.
Ingredients
Apple caramel
150 gr. of Demerara sugar.
1 Tsp. of Water.
1 medium apple.
Cake batter
1 Cup of Self-raising flour.
½ Cup of Demerara sugar.
1 Pinch of salt.
70 ml of Vegetable oil.
3 Tbsp. of Water.
2 Tbsp. of Apple sauce.
1 Tsp. of Vanilla extract.
Instructions
APPLE CARAMEL
In a pan add 150 gr of sugar (I used demerara) and pour 1 tbsp. of water, then with a spoon integrate them.
Place the pan on the stove at low to medium heat. Stir from time to time if you think is necessary, otherwise try not to stir much as the caramel may crystalize.
Once you notice the sugar started to melt you can pour it into a cake baking tray* and spread it evenly including the sides of the baking tray.
Set aside to cold down.

CAKE BATTER
Preheat the oven to 180 °C degrees (356 °F approx.).
In a large bowl add ½ cup of sugar, pour 70 ml of vegetable oil, and 3 tbsp. of water, and 2 tbsp. of apple sauce. Mix well.
In another bowl, sieve the self-raising flour**, add 1 pinch of salt, and mix.
Add the dry ingredient slowly to the wet ingredients and integrate well. Set aside.
Wash and peel the apple and cut it into slices.
Place the apple slices on top of the caramel on the baking tray (you only need to put one apple layer).
Pour the batter on top of the caramel and apple slices. Spread the batter evenly.
Place the cake in the center of the oven and cook for 20 minutes. After that time, place the apple upside-down cake on the top shelf of the oven and cook for another 10 minutes***.
Remove the cake from the oven and check if the batter is cooked using a toothpick inserted. If the toothpick comes clean your cake is ready.
Remove the cake from the baking tray when is warm, as if you wait the caramel will get hard and might be more difficult to do it. Place a plate on top of the baking tray and with a tablecloth flip them over.
Serve warm and enjoy!
Notes
*I used a baking tray of 22cm/8.6 (diameter) and 3cm/1.1 in height.
**If you don't have self-raising flour you can try all-purpose flour and mix it with flour baking powder.
***Cooking times might vary depending on the oven you are using.
Nutrition Information
Yield

6
Serving Size

1
Amount Per Serving
Calories

351
Total Fat

11g
Saturated Fat

1g
Trans Fat

0g
Unsaturated Fat

10g
Cholesterol

0mg
Sodium

272mg
Carbohydrates

62g
Fiber

1g
Sugar

46g
Protein

2g
The Nutritional values presented on this table are only estimates. The values can also vary depending on the cooking method, ingredients, product brands etc. This data was provided and calculated by Nutritionix.
RELATED RECIPES
YOU MIGHT ALSO LIKE…
---
---