STRAWBERRY CAKE GLUTEN FREE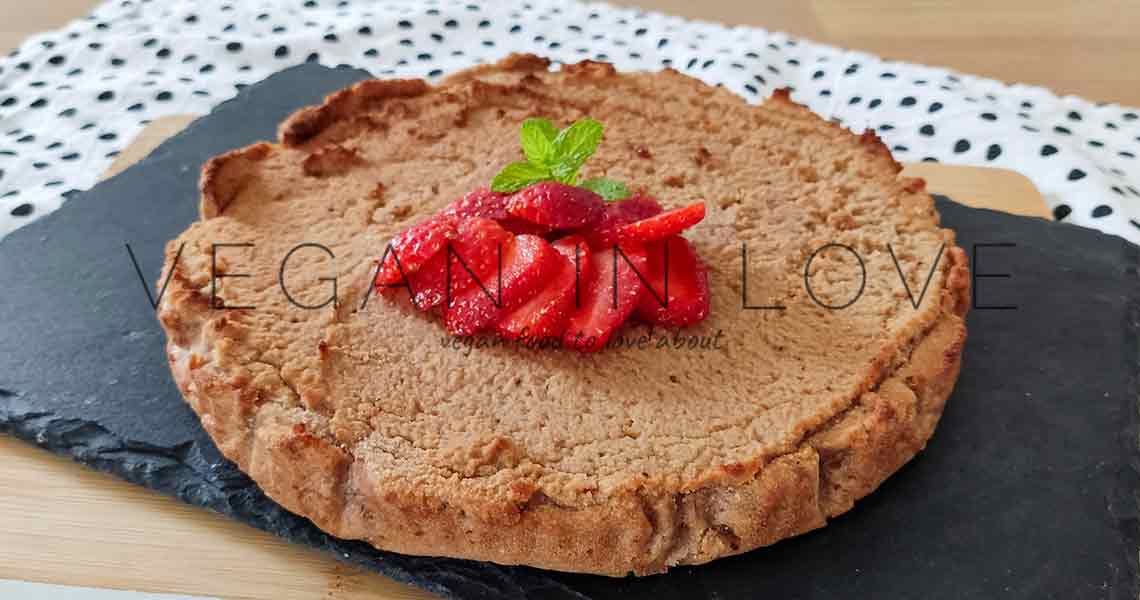 Traditionally cakes are made with regular flour mixture such as wheat flour, and trying to make a gluten-free cake batter can be challenging. However, I used coconut flour and potato starch for this delicious strawberry cake and was pleasantly surprised about the cake consistency and texture of the final result. What is more, this gluten-free strawberry cake is not only soft and moist but also is light and fluffy cake.
In addition to this, the star ingredient of this vegan cake is the fresh strawberries which gives a lovely flavor to this recipe. Also, besides using strawberry puree made in the blender or food processor you can add other ingredients to the cake batter to enhance the strawberry flavor. For example, you can use freeze-dried strawberries, freeze-dried strawberry powder, frozen strawberries, strawberry extract, or make a strawberry reduction, etc.
GLUTEN-FREE CAKE
If you want to make a gluten-free strawberry cake (or any other gluten-free cake) nowadays you can find many gluten-free flour options, gluten-free mixtures of flour and starch, etc. Depending on the ones you want to use you can get different results on the consistency, texture, and flavor of your cake. Therefore, is important to know them well as baking with gluten-free flour is significantly different from regular flour. For example, if you are trying to make a gluten-free cake by using a standard cake recipe and then you replace the wheat flour with gluten-free ones, don't have great expectations of the final result as this can turn out badly.
GLUTEN-FREE FLOURS
Almond flour.
All-purpose gluten-free flour.
Plain gluten-free flour.
Self-raising gluten-free flour.
Oats flour.
Rice flour.
Chickpea flour.
Corn flour.
STARCHS
Potato starch.
Cornstarch.
Tapioca starch.
Rice starch.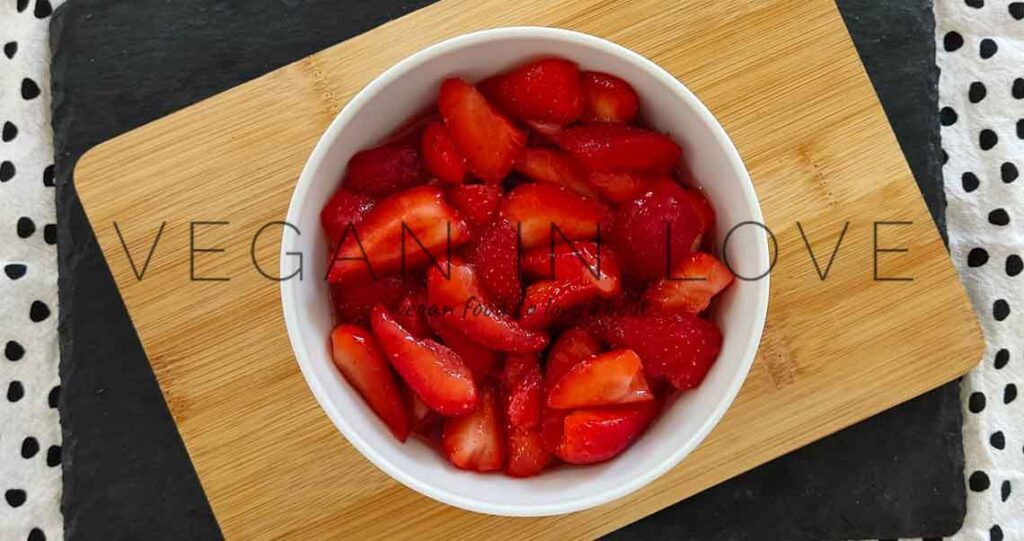 MAKING THE STRAWBERRY PUREE
Besides this being a gluten-free cake, the star ingredient of this recipe is the delicious strawberries. For this recipe, you will need 250 gr. of fresh strawberries and ideally, they should be well-ripe as they will have a more intense flavor. Additionally, if you have time to make this recipe macerate the strawberries can be a game changer. But don't worry, this is easy and simple to do.
Wash well your ripe strawberries and cut them in half (if you have big strawberries then cut them into smaller pieces). Place them in a container and pour fresh citrus juice (it can be one lemon or one orange). Then, sprinkle around 3 tbsp. of sugar; such as demerara sugar. Lastly, mix well cover the container with a lid and place it in the fridge for at least 30 minutes. You can better results if leave the strawberries macerate for longer.
STRAWBERRY CAKE DECORATION TIPS
When I was making this fresh strawberry cake I decided to only decorate it with some fresh strawberry slices and mint leaves on top. However, there are other great options to decorate these vegan cakes. Below you will find ideas that you can make at home, but also some ideas include ingredients or products that you can buy.
Sprinkle powdered sugar on top.
Strawberry powder.
Vegan strawberry frosting.
Vegan cream cheese frosting.
Strawberry buttercream frosting.
Strawberry jam.
Lastly, as you can make two strawberry cakes with this recipe you can also use those ingredients as filling between the strawberry cake layers.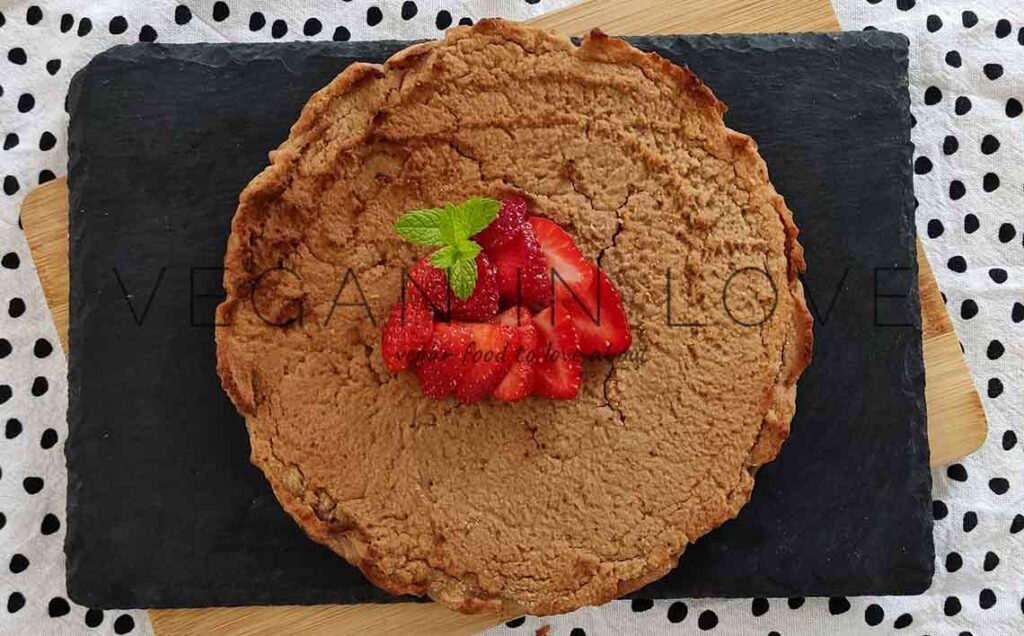 THIS STRAWBERRY CAKE RECIPE GOES WELL WITH: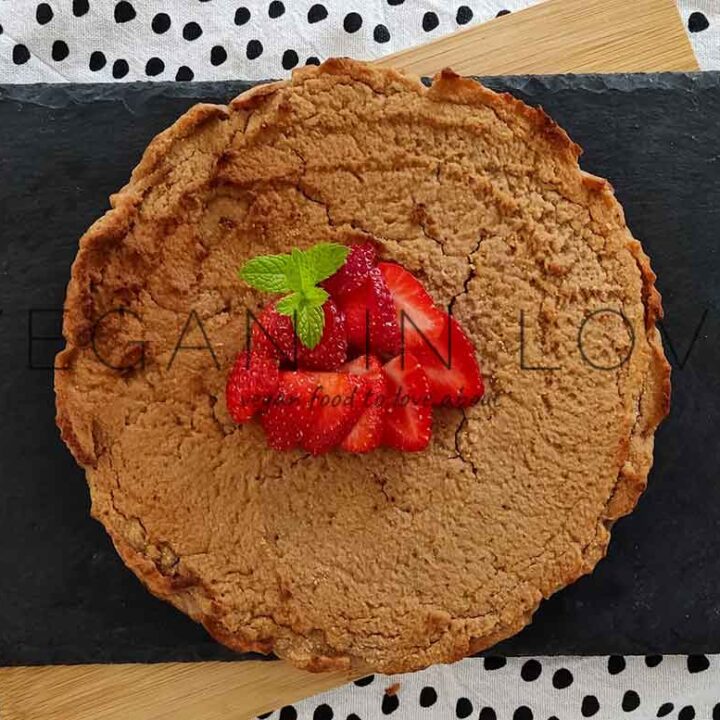 STRAWBERRY CAKE GLUTEN FREE
Additional Time:
30 minutes
Total Time:
1 hour
20 minutes
This easy-to-make strawberry cake is gluten-free and dairy-free. Also, this moist and soft vegan cake is made of fresh and well-ripe strawberries and a few ingredients.
Ingredients
Strawberry puree
250 gr. of Fresh strawberries.
3 Tbsp. of Demerara sugar.
Juice from a fresh lemon.
Cake batter
200 gr. of Coconut flour.
150 gr. of Potato starch.
30 gr. of Corn-starch,
A pinch of Salt.
2 Tsp. of Baking soda.
100 ml. of Vegetable oil.
550 ml. of Plant-based milk.
Instructions
STRAWBERRY PUREE
Wash the fresh strawberries and remove any part that is not in good condition. Then, cut them in half and place them in a container.
Sprinkle 3 tbsp. of sugar and lemon juice. Mix well.
Cover the container with a lid and let the fresh sliced strawberries rest in the fridge for at least 30 minutes (the longer the better).
Later on, place the fresh strawberries in a food processor or blender. Blend them until you get a fresh strawberry puree.
CAKE BATTER
In a large mixing bowl add the coconut flour, potato starch, and corn starch to make your gluten-free flour blend. Then add the salt and the baking powder or baking soda. Mix well.
Then pour the fresh strawberry puree, vegetable oil (you can use coconut oil), and dairy-free milk into the large mixing bowl and integrate well until you get a cake batter.
Place parchment paper on the cake pans (if you don't want to use parchment paper you can spread vegan butter on the cake pans and sprinkle some flour). This recipe was enough for two cake pans*.
Divide the dairy-free strawberry cake batter into two equal parts. Then, pour and spread the cake batter evenly in both cake pans.
Place the cake pans in the oven and bake for around 30 minutes (I have an electric fan-assisted oven, therefore baking times can vary if you have another type of oven; such as a gas oven).
Once your vegan strawberry cake is done (you can use a knife or a toothpick to check if the cake batter is cooked), leave the cakes at room temperature to cool down.
If you want to decorate or add toppings to this easy vegan strawberry cake, you can simply sprinkle some powdered sugar on top. However, if you want more ideas check above this recipe.
Notes
*I used 8.6-inch cake pans (22cm/8.6 - diameter) and 3cm/1.1 in height.
Nutrition Information
Yield

16
Serving Size

1
Amount Per Serving
Calories

171
Total Fat

8g
Saturated Fat

2g
Trans Fat

0g
Unsaturated Fat

5g
Cholesterol

3mg
Sodium

217mg
Carbohydrates

24g
Fiber

5g
Sugar

10g
Protein

4g
The Nutritional values presented on this table are only estimates. The values can also vary depending on the cooking method, ingredients, product brands etc. This data was provided and calculated by Nutritionix.
MORE GLUTEN-FREE VEGAN RECIPES
YOU MIGHT ALSO LIKE…
---
---