VEGAN SAUSAGE STEW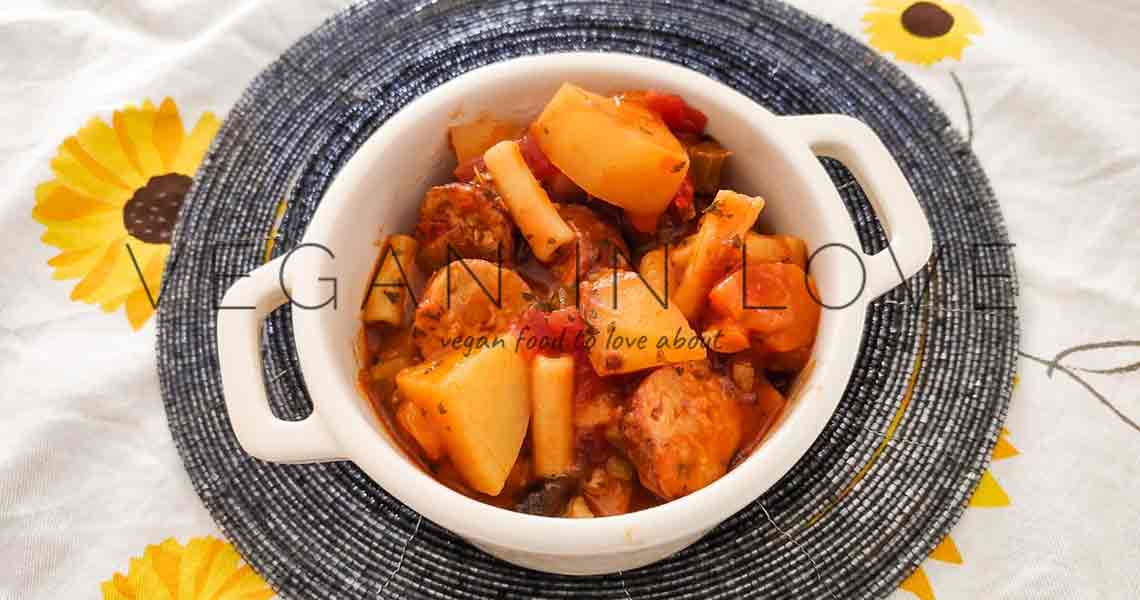 VEGAN STEW IDEAS
How to make a vegan stew? In short, this is easy, simple, and filling stew is a great recipe to enjoy with family and friends, just follow the easy step-by-step instructions below. Moreover, you can make this recipe gluten-free by not using pasta or using gluten-free pasta. Additionally, if you want to add other ingredients, check the list to find more inspiration!
Further ingredients ideas:
White and/or brown rice.
Vegan meatballs.
Parsnip.
Sweet potatoes.
Turnips.
Red/green or yellow peppers.
Sweet corn.
Butternut squash.
Pumpkin.
Red kidney beans.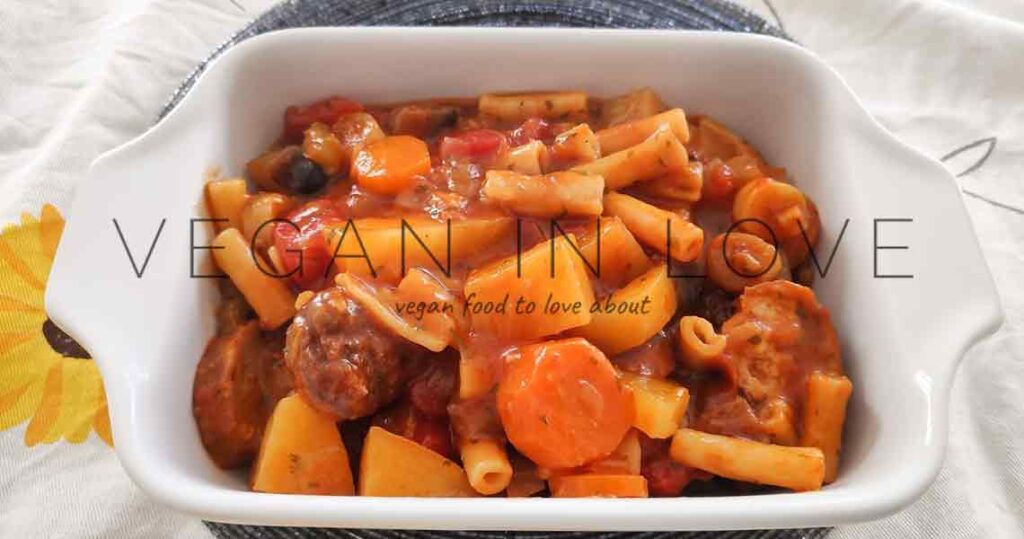 HERBS FOR THE STEW
In the first place, adding herbs to any recipe will make a massive improvement to enhance the flavors. You can add the herbs while you are cooking your dish but also when you serve to finish it off. Furthermore, when you serve this yummy vegan stew why not sprinkle fresh chopped herbs too! You can try:
Rosemary.
Parsley.
Cilantro.
THIS RECIPE GOES WELL WITH: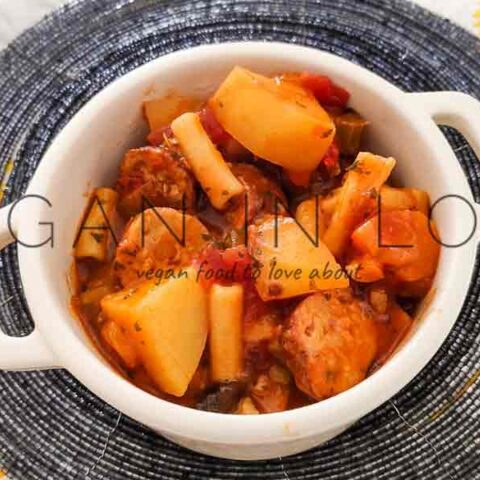 Vegan sausage stew
This recipe for vegan stew is hearty and great to keep you warm during the winter months. This satisfying and rich recipe is nutritious and affordable too!
Ingredients
1 Onion.
1 Spring onion.
1 Leek stick.
2 Garlic cloves.
1 Tbsp. of Olive oil.
200 gr. of Vegan sausages.
1 Celery stalk.
2 medium carrots.
3 medium potatoes.
300 ml. of Water.
1 Vegetable stock cube.
1 Tin of Chopped tomatoes.
100 gr. of Pasta (I used macaroni).
½ Tsp. of Sodium bicarbonate.
2 Tbsp. of Wine.
1 Tbsp. of Soy sauce.
1 Pinch of Himalayan salt.
½ Tsp. of Smoked paprika.
½ Tsp. of Parsley.
½ Tsp. of Garlic powder.
Instructions
Peel and cut the onion, then cut the spring onion and the leek stick. Place them in a saucepan, cook on medium heat with a sprinkle of salt and some olive oil.
Peel and dice the garlic cloves and vegan sausages. Add them to the saucepan, cook, and stir well.
Peel and cut the carrots and the potatoes. Cut the celery stalk and add all the veggies to the saucepan.
Pour 300ml. of water, 1 vegetable stock cube, and 1 tin/can of chopped tomatoes.
Add the pasta or noodles of your choice and stir well.
Add ½ tsp of sodium bicarbonate and pour 2 tbsp of wine. Stir well.
Season to taste with: 1 tbsp of soy sauce, Himalayan salt, smoked paprika, parsley, and garlic powder.
Cook until the vegetables get soft and the pasta is cooked to your taste.
Serve this delicious vegan stew in soup bowls.
Nutrition Information
Yield

5
Serving Size

1
Amount Per Serving
Calories

317
Total Fat

15g
Saturated Fat

4g
Trans Fat

0g
Unsaturated Fat

8g
Cholesterol

24mg
Sodium

695mg
Carbohydrates

37g
Fiber

4g
Sugar

5g
Protein

10g
The Nutritional values presented on this table are only estimates. The values can also vary depending on the cooking method, ingredients, product brands etc. This data was provided and calculated by Nutritionix.
YOU MIGHT ALSO LIKE…
---
---