PASTA FROLLA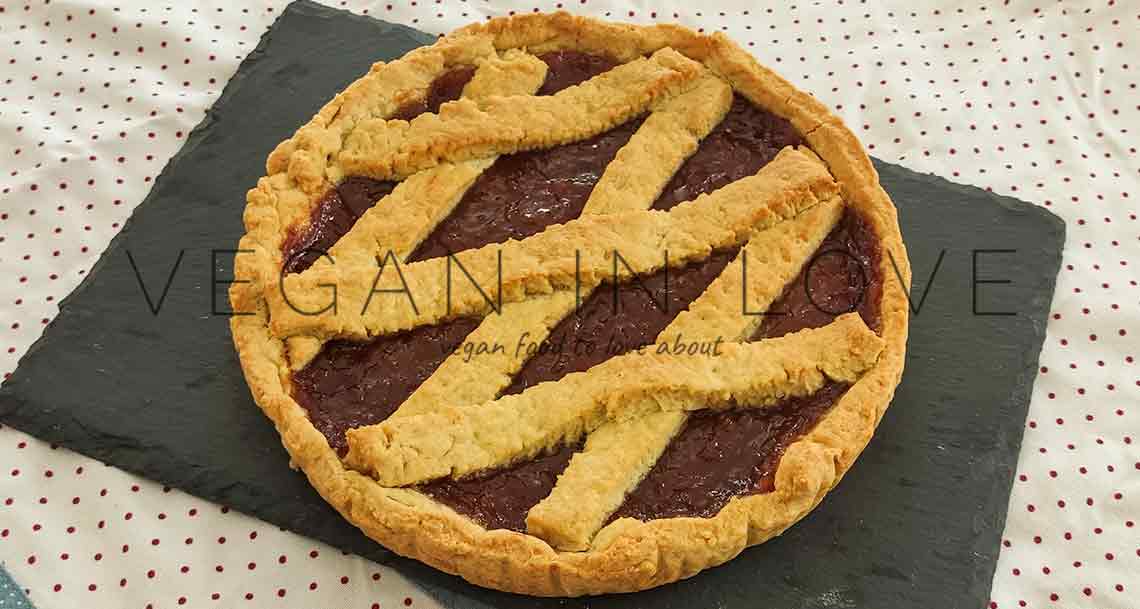 Delicious and very easy to make this classic sweet Pasta frolla recipe. This vegan sweet recipe does not contain eggs; however, the flavor, texture, and consistency of the dough are very similar to the traditional recipe. Also, this egg-free pasta frolla recipe is ideal for people with allergies or intolerance to eggs and not only for people who choose to follow a vegan diet. On the other hand, this recipe is for pasta frolla with self-rising flour, which makes it a very easy and simple recipe to make.
IDEAS TO ENHANCE PASTA FROLLA
When preparing the pasta frola dough, you can add different ingredients to flavor it that will give it a delicious flavor, for example, orange zest (remember to wash the orange skin well and do not grate more than the orange part without taking it to the white part of the skin). However, there are other ingredients that you can also use to add other different flavors, some of them can be:
Caramel flavoring.
Vanilla extract.
Cocoa powder.
Lemon zest.
Cinnamon.
Liqueurs*.
Wines*.
Cognac*.
*Suitable for vegans.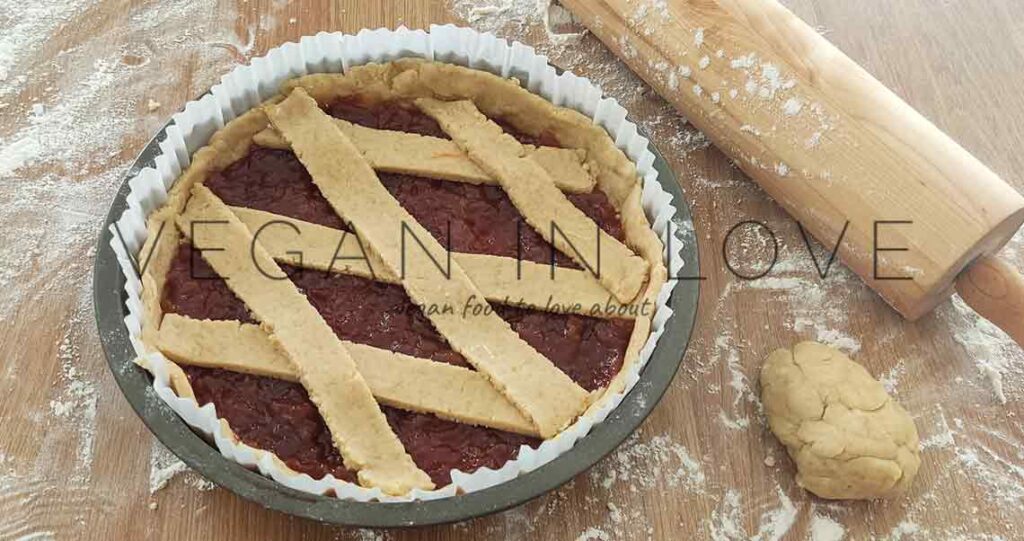 FILLINGS FOR PASTA FROLLA
One of the classic ingredients to fill this delicious Argentinian pasta frolla recipe is quince jam. However, you can use other tasty ingredients that go very well with this dough; for example:
Traditional sweet potato jam or also with chocolate or maraschino cherries.
Half quince jam and half sweet potato jam.
Vegan caramel.
Jams.
CAKE DECORATION
Although for this recipe I did not make any decoration or addition on top of this pastry, you can prepare a syrup with water and sugar and pour it over the cake when it is cold. Also, this addition will enhance the colors of the cake and also give it a very nice shine. If you prefer not to make the syrup, you can see in the following list other simple ideas for the decoration of this delicious recipe.
Agave.
Maple syrup.
Desiccated coconut.
Icing sugar.
Multi coloured strands.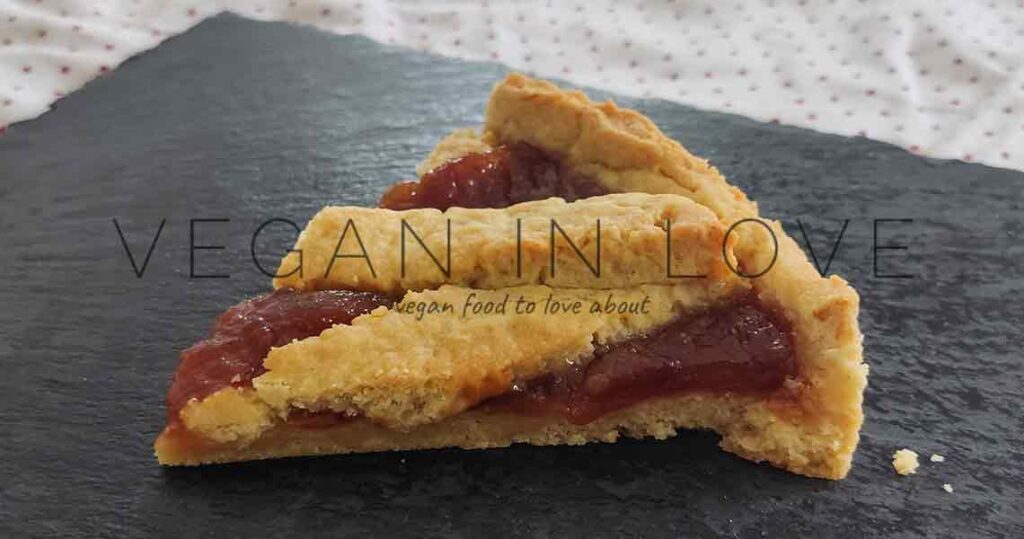 TIPS TO PREPARE PASTA FROLLA
Prepare the dough in a large bowl and integrate the ingredients, then transfer the dough to the counter or countertop and just knead a little to shape the dough. Put the dough back in the bowl and cover it with a kitchen towel/cloth or plastic wrap and let it rest in the fridge/refrigerator for about 30 minutes.
If you have leftover dough when preparing this recipe (as happened to me) you can use that leftover dough to make some delicious Pepas cookies.
THIS RECIPE GOES WELL WITH: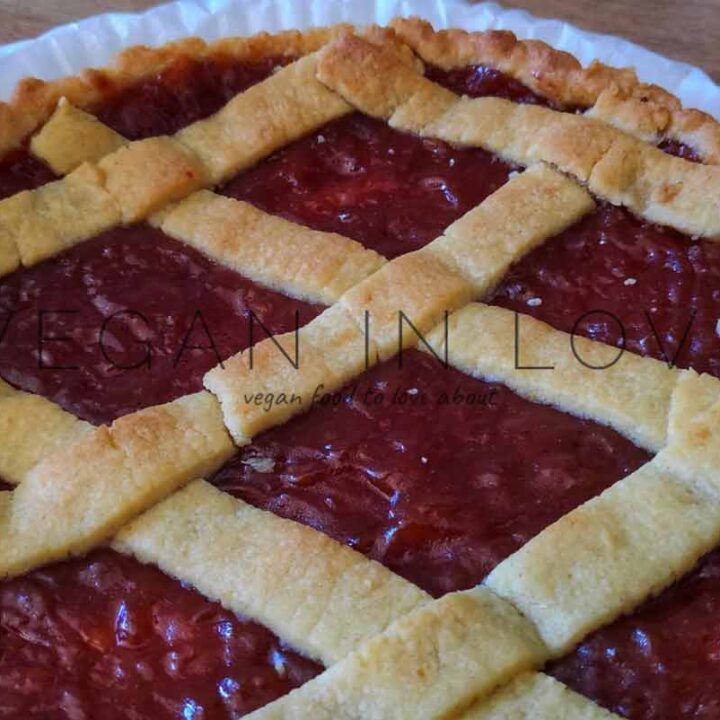 Pasta frolla
Rest dough in fridge:
30 minutes
Total Time:
1 hour
25 minutes
Delicious traditional pasta frolla pie vegan style with quince jam. This Italian sweet pastry dough is made of easy and simple ingredients.
Ingredients
200 gr. of Self-raising flour.
100 gr. of Sugar.
100 gr. of Vegan butter.
1 Tbsp. of Citrus zest (I use 1 orange).
1 Tbsp. of Liquor or wine of your choice.
1 Pinch of Salt.
250 gr. of Quince/strawberry jam.
2 Tbsp. of Water.
Instructions
Cut the vegan butter into chunks and leave it outside the fridge to get soften.
In a bowl sieve the flour, then add the sugar, and the salt and mix.
Add the citrus zest of your choice and mix.
Then, add the flour mix to the butter and make a dough with your hands.
Let the dough rest in the fridge for at least 30 minutes.
In the meantime, cut the quince jam into cubes and place them in a pan with water. Heat over low to medium heat. Stir from time to time until it gets more fluid (I used a solid jam if you have a regular fluid jam skip this step).
Preheat the oven to 180 °C degrees (356 °F approx.).
Remove the dough from the fridge then roll out on a floured board/worktop and shape it according to the cake tin you want to use (for this recipe I use a 20cm/ 7.87 inches cake tin) cover all the cake tin with non-stick baking paper.
Then cover the cake tin with the pasta frolla dough.
Cook in the oven for 5 minutes.
Remove from the oven and pour the quince jam and spread well. Then, cut strips of dough for the final decoration.
Cook your cake in the oven for around 20 minutes.
Notes
Please note that this dough tends to break when you roll it out.
Cooking times can vary depending on the oven you use.
Nutrition Information
Yield

6
Serving Size

1
Amount Per Serving
Calories

360
Total Fat

14g
Saturated Fat

3g
Trans Fat

2g
Unsaturated Fat

11g
Cholesterol

0mg
Sodium

423mg
Carbohydrates

51g
Fiber

2g
Sugar

18g
Protein

4g
The Nutritional values presented on this table are only estimates. The values can also vary depending on the cooking method, ingredients, product brands etc. This data was provided and calculated by Nutritionix.
RELATED RECIPES
YOU MIGHT ALSO LIKE…
---
---